Breaking News!!
4/12/14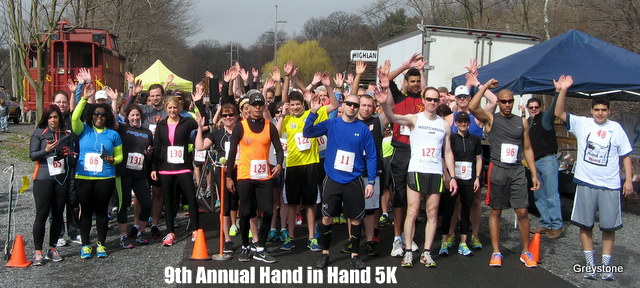 A great shroud of grey enveloped the 150 foot high walkway across the Hudson River. The wind was calm and the temperature was 39 degrees during registration. The sun started to break through the fog and the temperature started to climb. By 10:00 AM the sun shone brightly and the runners ran with great enthusiasm. It was a Master taking the victory! Results for the 9th Annual Hand in Hand 5K are posted.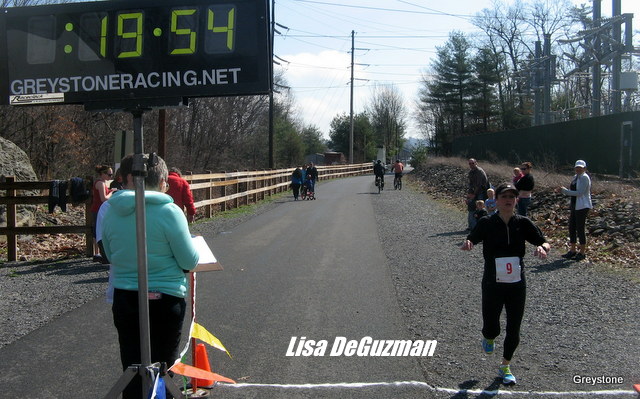 3/30/14

The rain was cold but it didn't dampen anyone's spirits. New records were established in the certified 5K and the certified half-marathon. Congratulations to all the runners who competed under typical New England racing conditions for March 30! Happy Spring. Thank you to all the organizers, the sponsors and the many volunteers who made everyone feel warm in the 39 degree rain...Results for the Westfield Half-Marathon and 5K are posted.
3/17/14
Happy Saint Patrick's Day!
Updated race applications.
3/4/14
Check out the Applications page for an upcoming race application and/or a link for on-line registration. Check back for additions.
2/25/14
It was a busy weekend. Congratulations to the 2014 USATF Connecticut Cup Men's Champion- Manchester Running Company (two in-a-row) and to the Women's Champion - the Housatonic Road Runners(their first)! The USATF of Connecticut held its annual Connecticut Cup Championship Race at the Colchester Half-Marathon this year. Teams from around the state took on the challenging course and battled for the $500/$300 first place prize money, the individual trophies, and a spot to have their team's name engraved on the Cup. Stay tuned for the announcement of the 2015 race selection...
The USATF/CT Road Race Grand Prix picks up again with the WPLR 5K in New Haven on March 2nd.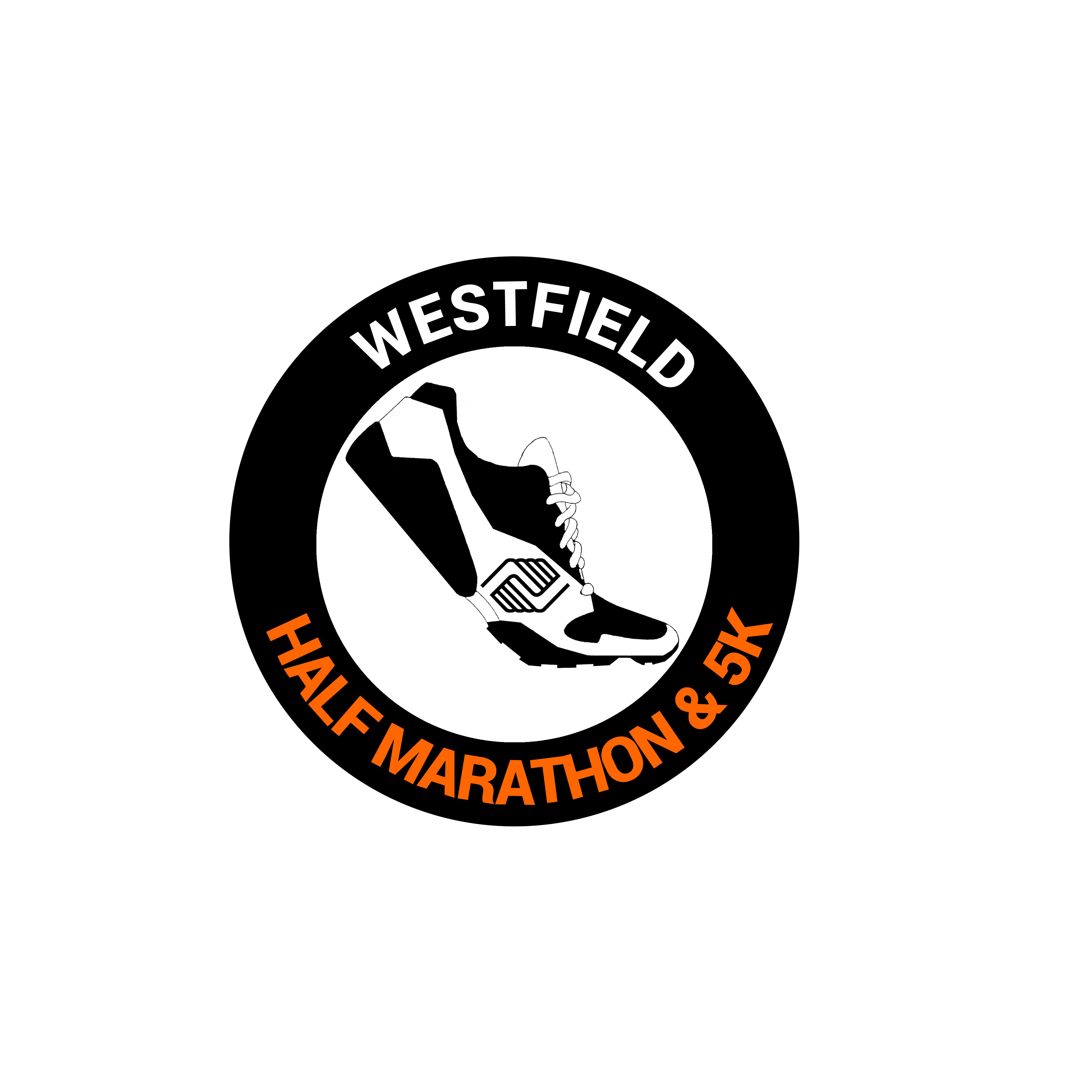 The Race registration form for the Westfield Half-Marathon is available on our Race Application page.
2/23/14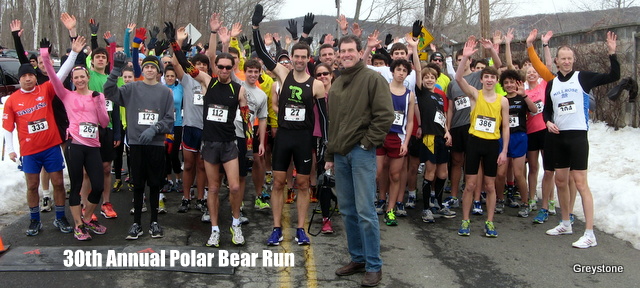 Race director, Dave Dunleavy is pretty happy. Despite the huge amount of snow and the logistical nightmare of parking, a record turnout showed up for the 30th Running of the Polar Bear. Wallie Jahn is looking down with an effervescent smile.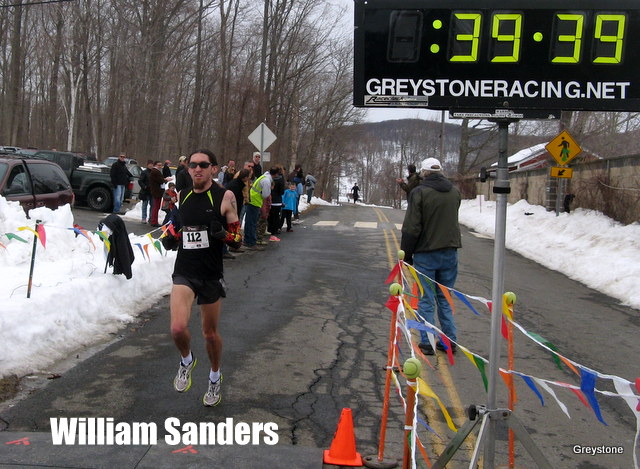 For the third year in a row, William Sanders has taken the race out early and never let up. Sanders did the course a second time as a cool down around 7 minute pace. He is in great shape for his preparation for the Vermont City Marathon this May.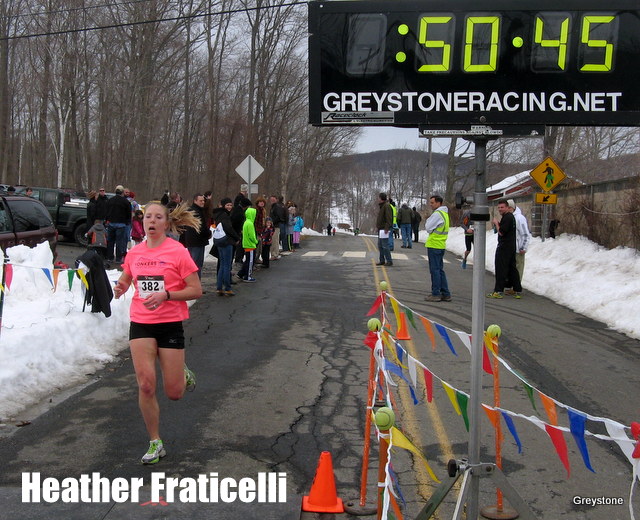 Heather Fraticelli was in good company as the boys track team from Danbury showed up. They ran up front with great encouragement and it payed off. Congratulations to all the runners in this show case event. Thank you to the many volunteers, sponsors, and spectators. Results are posted!
1/9/14
The Connecticut Association of the United States of America Track and Field (USATF) has announced the 2014 Road Race Grand Prix and the Connecticut Cup Championship. The Road Race Grand Prix consists of 8 races:
1/26/14 Sunday at 9:30 AM, Winter Wonderland 5-Miler in Milford
3/2/14 Sunday at 9:00 AM, WPLR Shamrock & Roll 5K in New Haven
4/6/14 Sunday at 10:20 AM, Greater Danbury Half-Marathon
5/24/14 Saturday at 9:00 AM, Delaney Dash 4-Miler in Old Saybrook
6/14/14 Saturday at 8:00 AM, Spring Street Mile in Manchester
8/3/14 Sunday at 8:00 AM, Sea Legs Shuffle 10-Miler in Guilford
8/24/14 Sunday at 8:30 AM, Old Wethersfield 10K in Wethersfield
*9/1/14 Monday at 8:40 AM, The New Haven Road Race 20K National Championship
*Note: In 2014 there is a one week gap between the 10K and 20K. In 2015 there is a two week gap.
The Connecticut Cup Championship consists of one race with the winner take-all; including, team cash, team trophies for each scoring USATF/CT member, and the wining team's name engraved on the perpetual "Connecticut Cup"!
2/22/14 Saturday at 10:00 AM, The Colchester Half-Marathon
1/1/14
Happy New Year!
Chilly temperatures didn't seem to cool anyone's jets. The 6th Annual Gordon Bates "First Race" 5K and 10K had some great performances.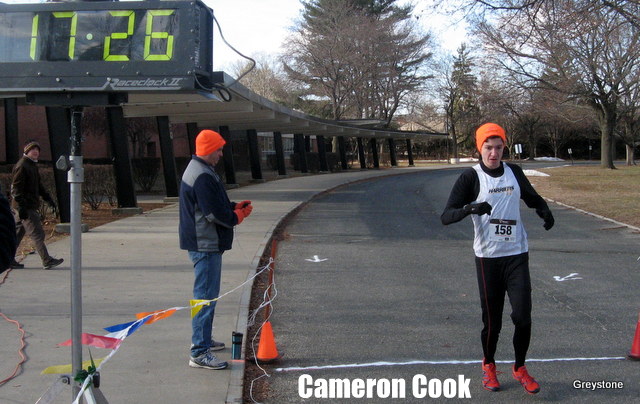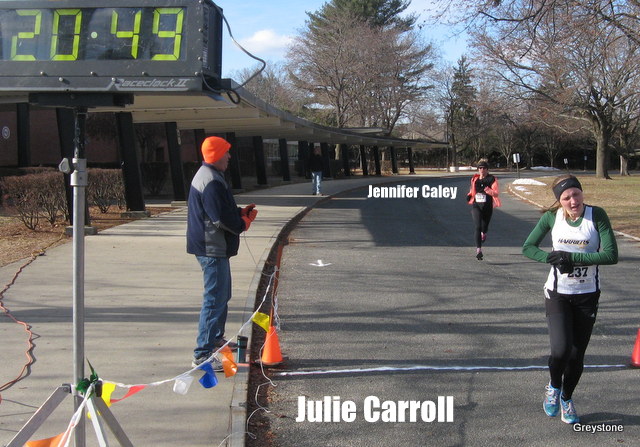 It was down to the wire for the women in the 5K.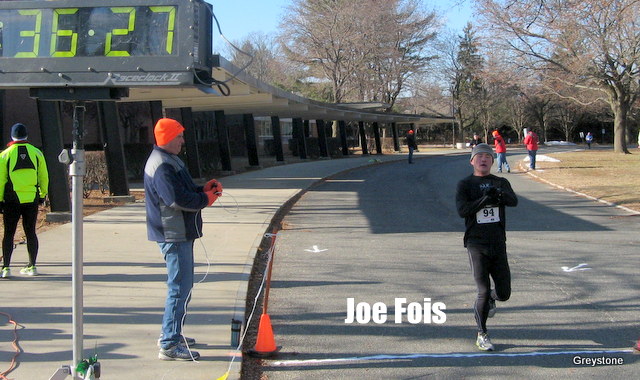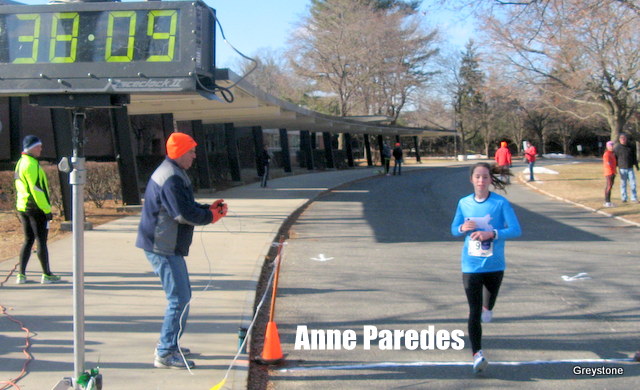 That's right! Second overall for Paredes in the 10K. Results from Westfield, MA are posted.
It was a great turnout for the 27th Annual New Year's Day Brookfield Lions Run for Sight 4-Miler. Once again in 2014, William Sanders has picked up right where he left off in 2013: winning! Results from Brookfield are posted!
12/28/13
Well it took a guy from Oklahoma to do it and he did it! A new course record for the Danbury First Night 5K Run into the New Year. Thank you to the runners, the spectators, the volunteers, sponsors, and organizers. Results are posted.
12/26/13
Congratulations to the 2013 USATF/CT Mens Open Team Champions: The Hartford Track Club.
Congratulations to the 2013 USATF/CT Mens Master Team Champions: The Woodbridge Running Company-Brookfield.
Congratulations to the 2013 USATF/CT Mens Grand Master Team Champions: The Woodbridge Running Company-Brookfield.
The race application for The 2014 Polar Bear Run is available.
The race application for the Oleksak 5K/Half-Marathon is available.
Norfolk Pub photos have been posted. There are more to come.
12/22/13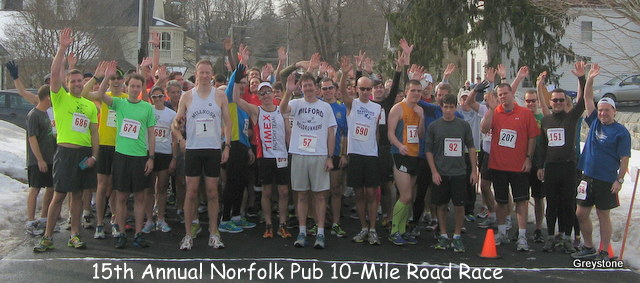 On a Saturday before Christmas the runners came out, the roads of Norfolk they all did run about. Elves at the tables, candy canes down the chute, they made for the Pub, libations made everyone look cute. The kids took the trophies, the pros took the loot. Many thanks to all!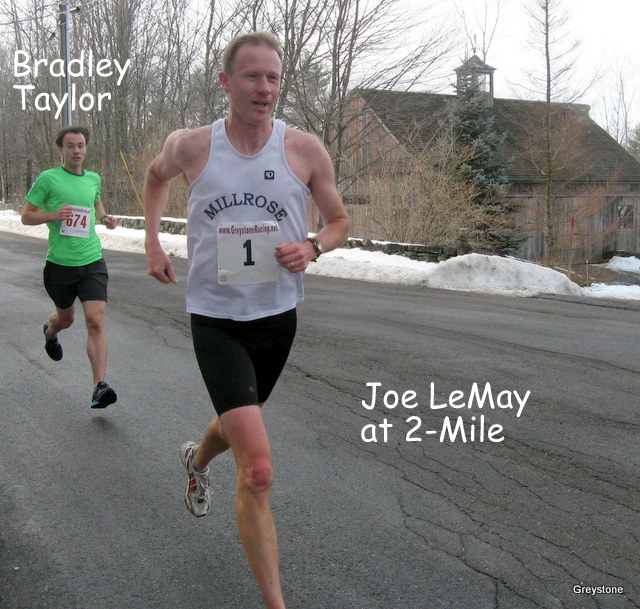 Joe LeMay is not hesitant to take on the challenges. He has run under 60 at Norfolk at least 4-times with a victory in 2004. Wearing bib #1 ain't easy!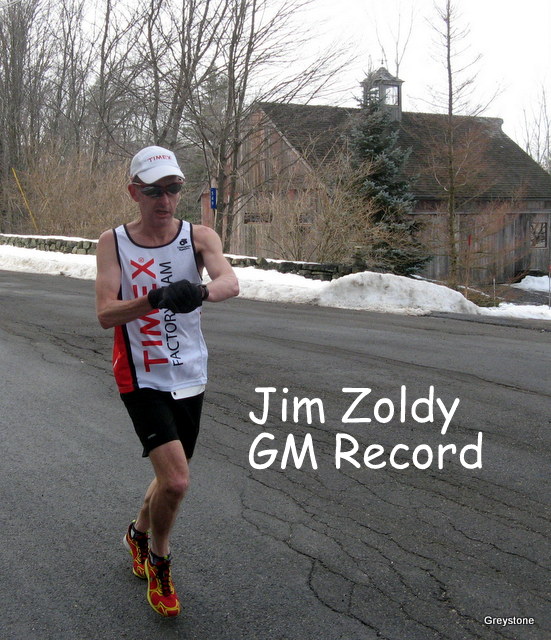 Jim Zoldy bettered his 2012 time by 19 seconds with a new Grand Master record. The performance of Bill Borla at 60 in 2000 comes to mind.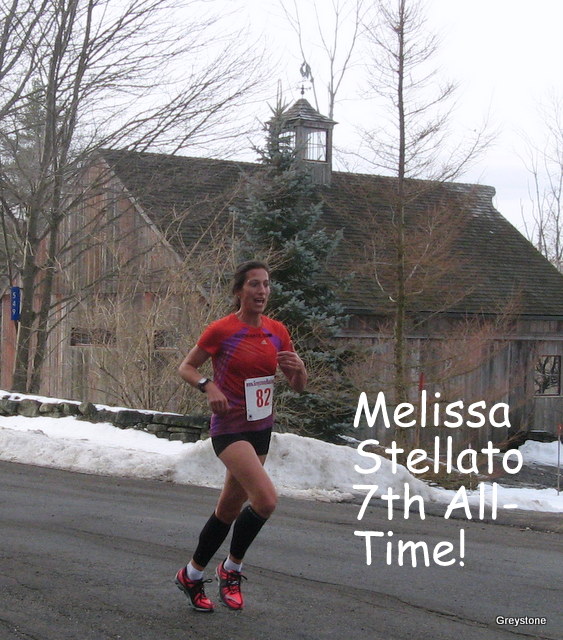 It's not easy to make the list. Melissa had her hands full. The woman very close behind her not only wanted to make the list, but set a new record as well!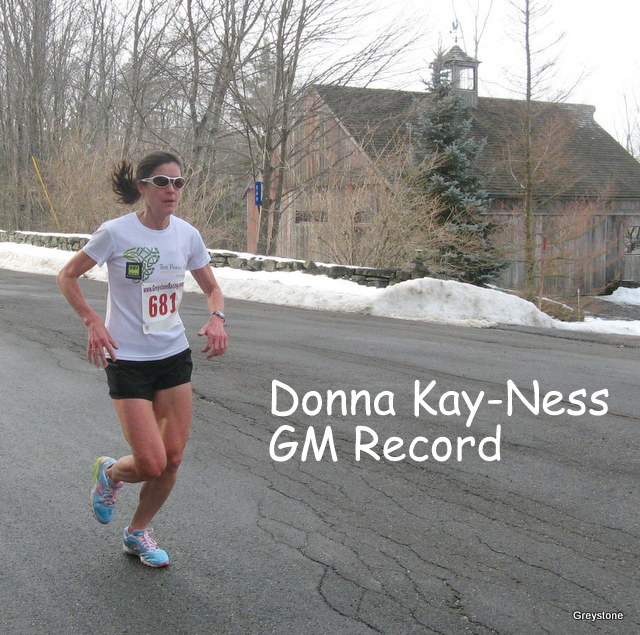 8th on the "List".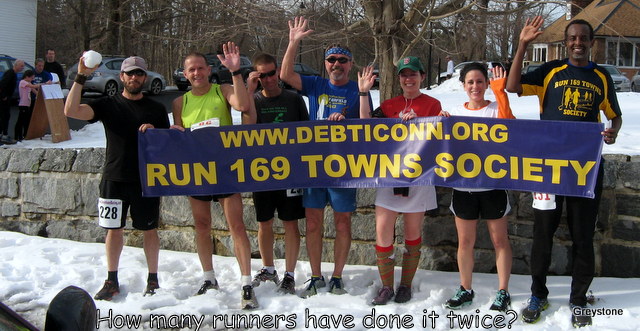 Results for the 15th Annual Norfolk Pub 10-Mile Road Race are posted. I will post bunches of photos between now and the New Year.
This Saturday, December 28, 2013 at 10:00 AM is the 1st Night Danbury 5K. You can register on line or race-day at the Danbury Arena. Active.com
12/20/13
The Norfolk Pub 10-Mile Road Race is scheduled for tomorrow, Saturday, December 21, 2013 at 11:00 AM. The course is in great shape. It's a little muddy on the gravel road between .7 to 1.7 and again on the way in from 8.3 to 9.3. Please park at the Town Hall. There is also parking on the Green in front of the church. Try to avoid parking in front of the post office or the convenience store near the pub.
For a complete list of preregistrations in alphabetical order with assigned bib number: click HERE.
Has anyone completed all 14 prior races? What has been the warmest race? What has been the coldest race? Does anyone recall running behind the town sanding truck as the gun went off and the runners attempted the ascent up Lovers Lane?
12/17/13
It is interesting to see the formidable Dave Dunham's name move to the bottom of the list and wonder if Jeff Niedeck's Master record will hold for another year. There is Master and Grand Master prize money. Will a woman ever break 60 minutes at Norfolk? Claudia Camargo (Nero) dominated from 2004 to 2007 and Shannon McHale's masters record seems pretty safe...
Top Fifteen Times for Men in Norfolk Pub 10-Miler (CT00003DR). Greystone offers $100.00 for a new course record.
1. Chris Zablocki 23, 53:09, 5:19's, 1st in 2011
2. Chris Zablocki 24, 53:35, 5:22's, 1st in 2012
3. William Sanders 24, 53:54, 5:24's, 2nd in 2011
4. Chad Johnson 26, 54:40, 5:28's, 1st in 2001
5. Peter Oviatt 32, 55:38, 5:34's, 2nd in 2001
6. Marc Robaczynski 37, 55:58, 5:36's, 3rd in 2011
7. Kevin Curley 26, 56:21, 5:39's, 1st in 2006
8. Eric Blake 24, 56:37, 5:40's, 1st in 2003
9. Eric Blake 26, 56:54, 5:42's, 1st in 2005
10. Brian Nelson 31, 57:16, 5:44's, 4th in 2011
11. Jon French 24, 57:24, 5:45's, 1st in 2007
12. Zack Schwartz 21, 57:42, 5:47's, 1st in 2009
13. Brian Nelson 30, 57:44, 5:47's, 1st in 2010
14. Joseph LeMay 38, 57:47, 5:47's, 1st in 2004
15. Dave Dunham 36, 57:57, 5:48's, 1st in 2000
16. Jeff Niedeck 45, 58:24, 5:51's, 2nd in 2009 (Master's Record)
Top Fifteen Times for Women in Norfolk Pub 10-Miler (CT00003DR). Greystone offers $100.00 for a new course record.
1. Claudia Camargo 35, 1:00:33, 6:04's, 3rd in 2006
2. Claudia Camargo 36, 1:01:58, 6:12's, 4th in 2007
3. Claudia Camargo 33, 1:03:51, 6:24's, 5th in 2004
4. Claudia Camargo 34, 1:04:46, 6:29's, 4th in 2005
5. Shannon Mchale 40, 1:05:07, 6:31's, 18th in 2011 (Master's Record)
6. Bess Ritter 24, 1:06:32, 6:40's in 2011
7. Brittany Heninger 23, 1:08:23, 6:51's in 2011
8. Liz Fagan 28, 1:09:06, 6:55's in 2003
9. Kate Lapinski 41, 1:09:17, 6:56's in 2006
10. Brittany Heninger 21, 1:09:44, 6:59's in 2009
11. Brittany Heninger 22, 1:10:00, 7:00's in 2010
12. Beth Krasemann 38, 1:10:08, 7:01's in 2011
13. Beth Krasemann 37, 1:10:22, 7:03's in 2010
14. Beth Krasemann 36, 1:11:22, 7:09's in 2009
15. Molly Gerster 35 , 1:12:55, 7:18's in 2012
This Saturday is the big day! You can register at the race!
Parking , registration, the start, and finish are located at the Town Hall on Maple Ave. Race-Day registration closes at 10:45 AM. Gun time is 11:00 AM. Current USATF mebership is required for cash awards. Awards (must be present to win) will take place at The Wood creek Bar and Grill at approximately 1:30 PM. See you there!
12/7/13

It was a Christmas Festival of runners for the 31st Annual Jingle Bell Run 5K in Litchfield, CT. Dominic Gillen from New Preston lead the cavalcade of stars with Rocco Botto in hot pursuit. Botto has had an exceptional 2013 running season. It was the Grinch that Stole the Women's race. The Brittany Heninger battled Sara Belles for top honors. Results are posted! See you at Norfolk!!!
12/1/13

The State Championship Title was on the line. One point separated the top two teams as the Hartford Track Club and the Woodbridge Running Company-Brookfield raced head-to-head. One point separated the score today between HTC and WRBrookfield. Peter Lofink lead the way as 12-year old Josh Magnini lead the first two miles. It was a husband and wife affair. Alene Lofink took the women's title. The conditions were perfect and the turnout for this second year event was spectacular. Many thanks to the race organizer; The Lupus Foundation of America, Connecticut Chapter. The results for the fourth and final race in the 2013 USATF/Connecticut Cross-Country Grand Prix; Huffing Off Stuffing, are posted.