Breaking News!!

Happy Memorial Day!
The Norfolk 5-Miler saw a respecatble turnout under rising humidity. The weather in Norfolk has been worse. It was unfortunate to see a runner collapse with yards of the finish. Reports are that he is doing well. Scott Shaw did well. Last year's champion, Brandon LeClair battled through the early miles, but Shaw was able to gradually pull away and establish a new record.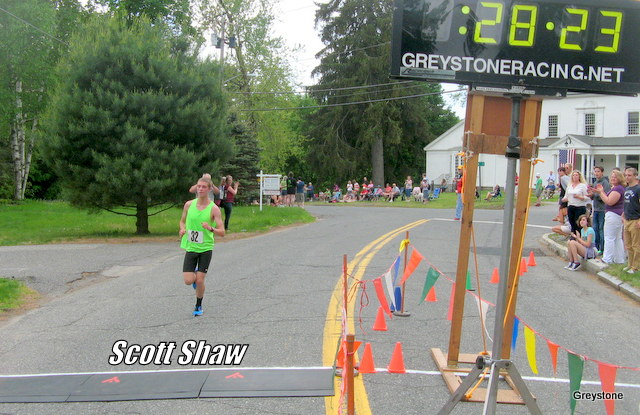 Results for the 37th Annual Memorial Day 5-Mile Road Race at Norfolk, Connecticut, are posted!
Itwas a good turnout in Bloomfield early this morning for the Bloomfield Leisure Services Memorial Day 5K. There was a slight mishap as the first three runners mistakingly took a shorter route. At the time they did have a respectable lead. Many thanks to the people of Bloomfield, and to the Mayor, who started the race. Results are posted!
5/24/15

Another fantastic turnout on this Memorial Day weekend. In 2014, Tyson Deloy finished 2nd. Deloy was not to be denied in 2015. He had his hands full with Joshua Adams and Bruce Christenson only a few seconds behind. For Adams, the last time he finished 2nd here was in 2010. Since then he has won this race three times. A great race from Kate Paddon. The 53 year-old lead all the women with an 11th place overall finish. Congratulations to all the runners, and thank you to the many spectators that lined the course, the volunteers, organizers, and sponsors. Results for the 14th Annual Race Around the Lake 3.5 Mile Run Around West Hill Pond are posted!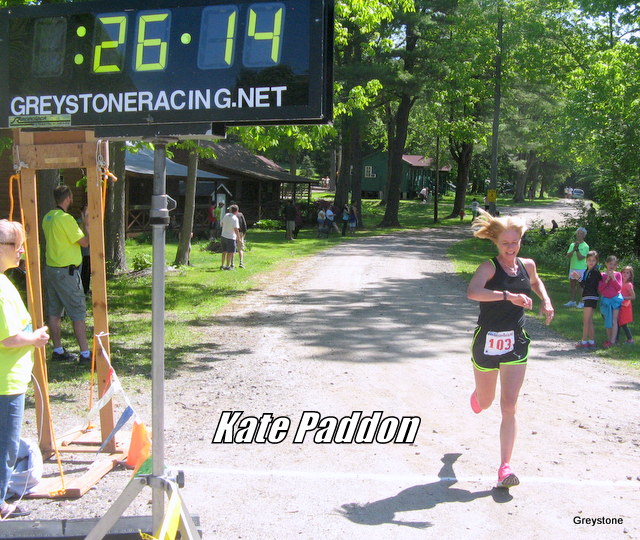 5/23/15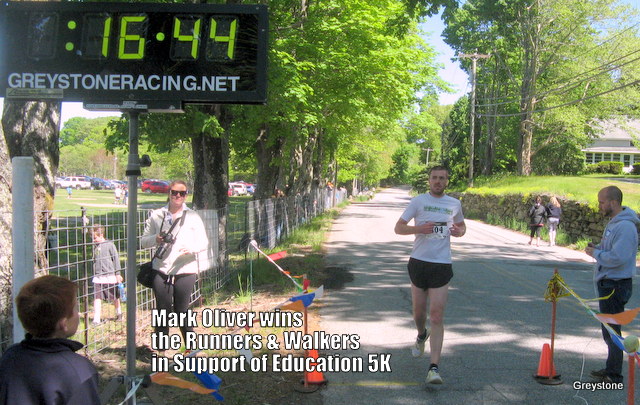 Not only did Oliver win, he broke the record by 1:21! It was a beautiful morning for a run in the country. The Runners and Walkers in Support of Education 5K had a record turnout. Congratulations to all the runners, and thank you to the many volunteers, spectators, organizers, and sponsors. Results are posted!
5/17/15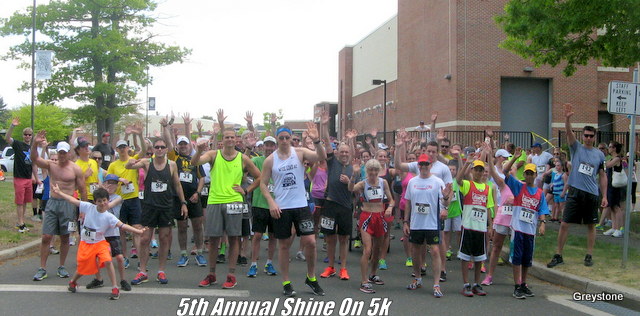 Rising temperatures didn't keep the runners from rising to the top. The top two masters, Patrick McCue and Kenneth Berardi battled all the way to the last quarter mile. McCue was able to pull ahead for the win with 52 year-old, olympic trials marathoner, Mary-Lynn Currier finishing in third place overall! It looks like Currier has made a full recovery after running a fine performance for the 2015 Boston Marathon.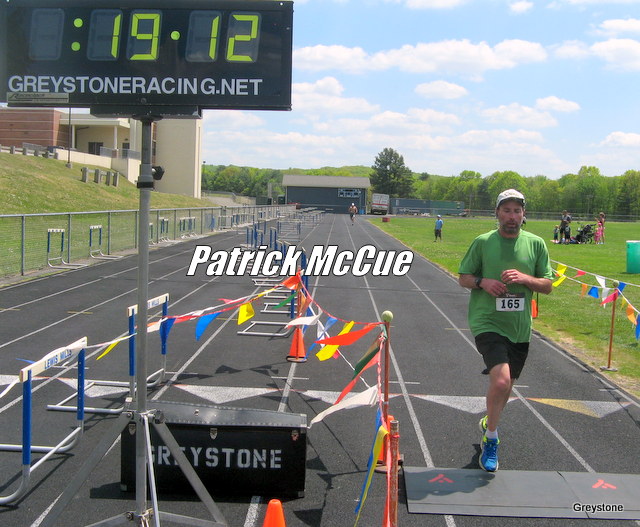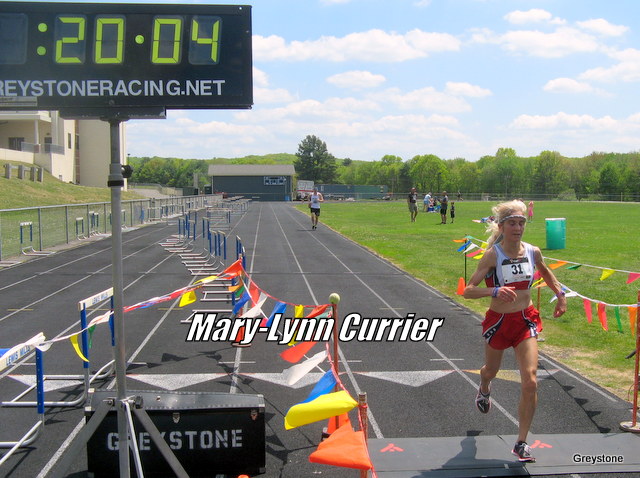 Results for the 5th Annual Shine On 5K are posted!
5/16/15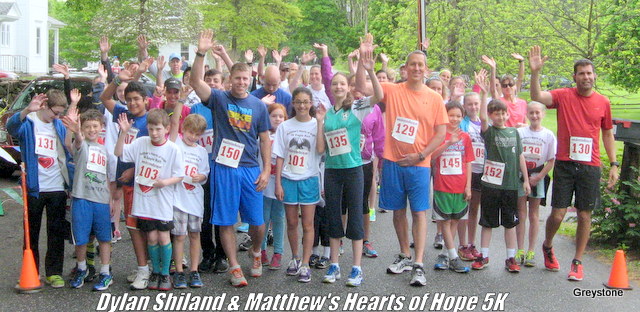 The rains stopped, the air was clean, the sun strated to shine, and the runners ran. This was a first year event put on as an eagle scout project. Race Director, Dylan Shiland did a fantastic job as a first-time race director. Shiland worked hard to make the race a success and to raise funds for Matthew's Hearts of Hope. Joe Beatty established the course record while Deirder Fitzpatrick finished third overall, just ahead of Elena Ariola, to establish the women's/ female masters record. Congratulations to all the participants. Results for the Dylan Shiland & Matthew's Hearts of Hope 5K are posted!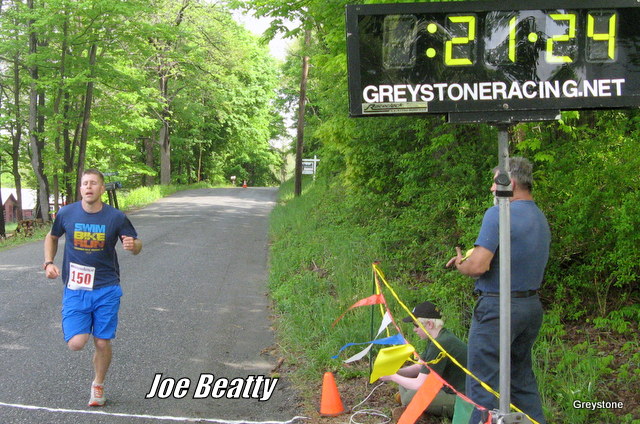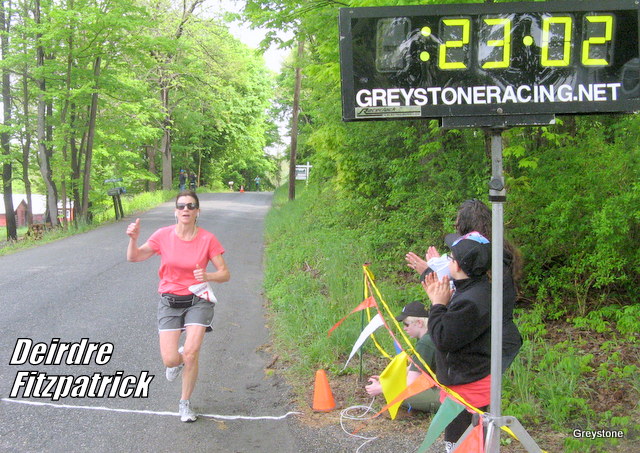 5/13/15
This Saturday is the Eagle Scout & Matthew's Hearts of Hope 5K in Sherman. The race starts at 9:30 and features a scenic course around the village. Check it out.
5/11/15
Pick your poison. There's a bunch of new race registration forms located on our Race Application page!
5/9/15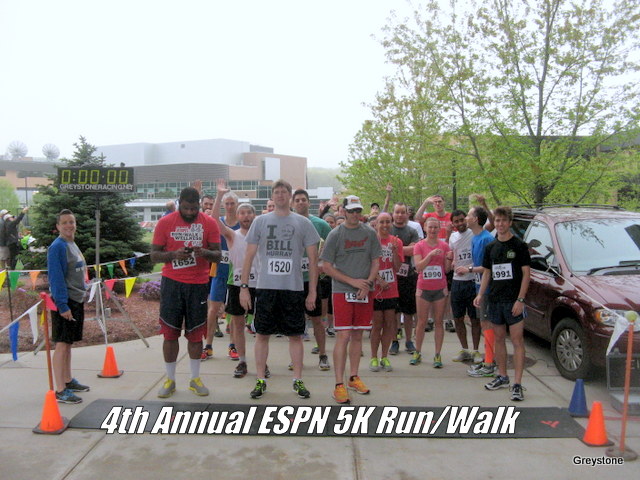 A fine turnout on a damp and misty morning. The ESPN crew know how to host an event. Scott Rodilitz made it look easy as he smashed the record set by James McGovern in 2013. Many thanks to Mike, Shannon, all the volunteers, the spectators, runners, and ESPN. Results for the 4th Annual ESPN 5K Run/Walk are posted.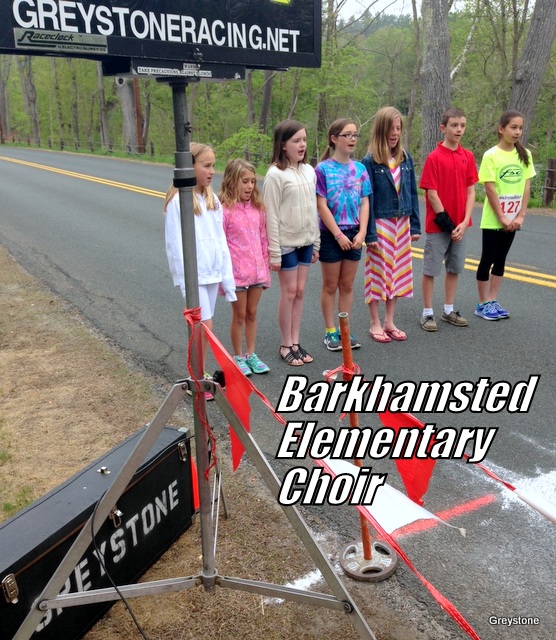 Opening ceremonies at the 7th Annual Barkhamsted River Run 5K are as much fun as the race. Hats off to 25-year old, Anthony Douaihy as he costed to victory over 52-year old, Ken Clark. 47- Year-old, Kathleen Shaw finished third overall with a great race. Results for the 7th Annual Barkhamsted River Run 5K are posted.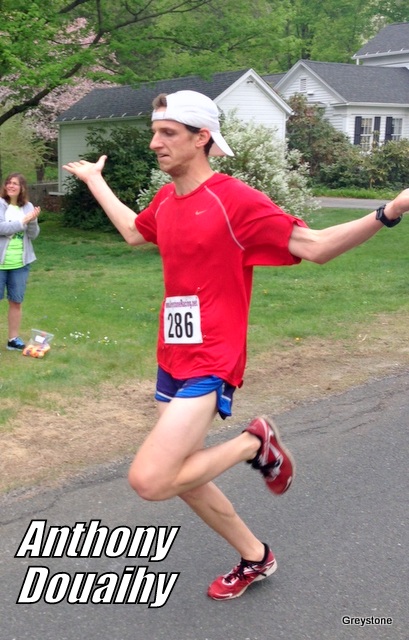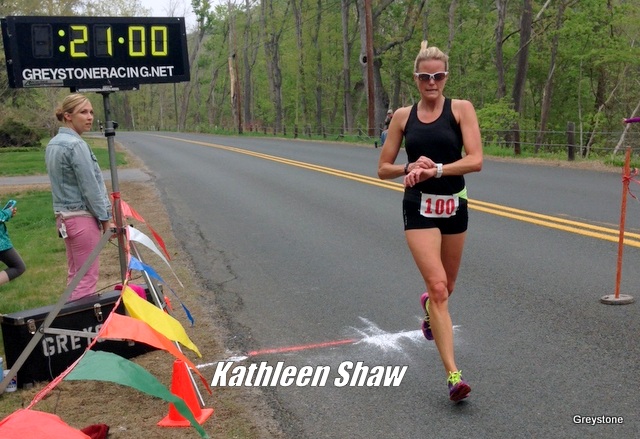 5/3/15

Another great day for running. For years, The Terryville Road Race has been a staple in road racing. For a few years, the race was held at the Terryville Fairgrounds, where it was a State Championship. The current location, Lake Winfield, offers a picturesque setting and great views of the runners as they finsh from around the lake.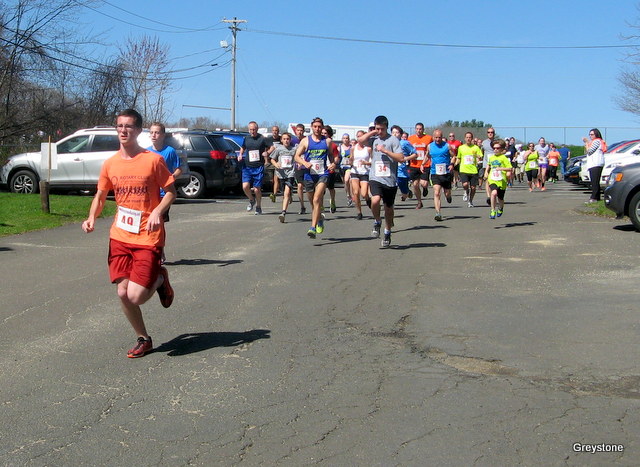 Defending Champion, C.J. Fusco, ran slightly faster this year, despite a slightly longer course.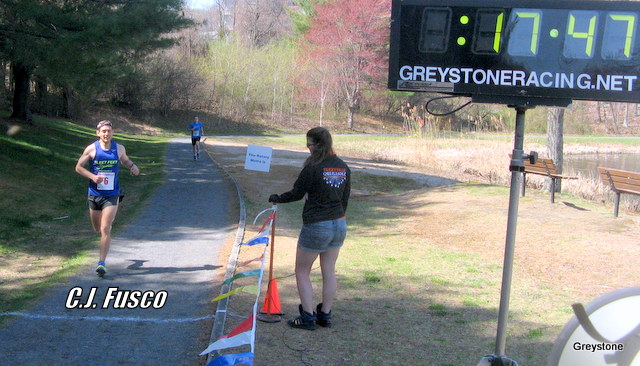 Thank you to the sponosr, the spectators, the volunteers, the runners, and the Rotary Club of Terryville. Results for the 20th Annual Edmund Ganem Memorial 5K Road Race are posted!
5/2/15

What a gorgeous morning for a classic 5-mile road race... Amos Sang had nearly a 100 meter lead after 400 meters. He never let up. Sang set a new course record on a certified course. He broke a record that I thought would stand for several more years. William Sanders had set the course record in 2011 with a 24:59; breaking Marc Robaczynski's 2001 time of 25:37. Sang shatters and take home the dough!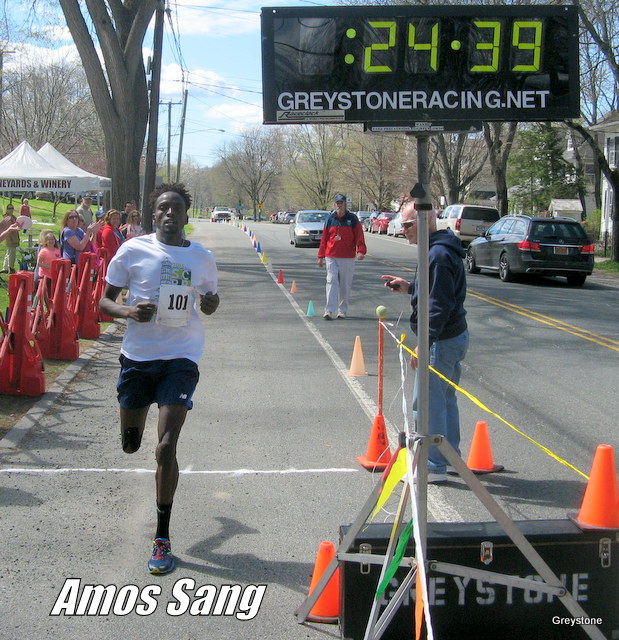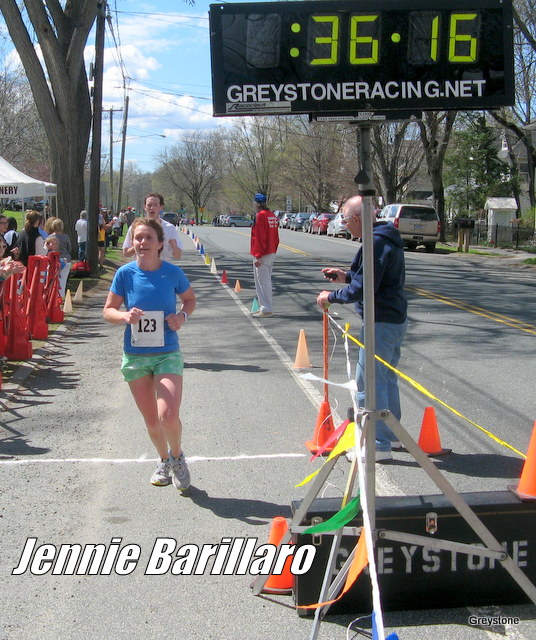 Thank you to all the supporters of this fine event. The Sharon Day Care Center appreciates your help. The results for the 30th Annual Sharon Classic 5-Mile Road Race are posted.
4/25/15

A fine turnout on a chilly morning in April. It warmed up quickly and Joe Mummert was only 2 seconds off the course record! A great run and walk. Many thanks to the multitude of volunteers, the organizers, sponsors, spectators, runners, and walkers. Results for the 5th Annual Hoof it for Hait-Southbury 5K Run and Walk are posted.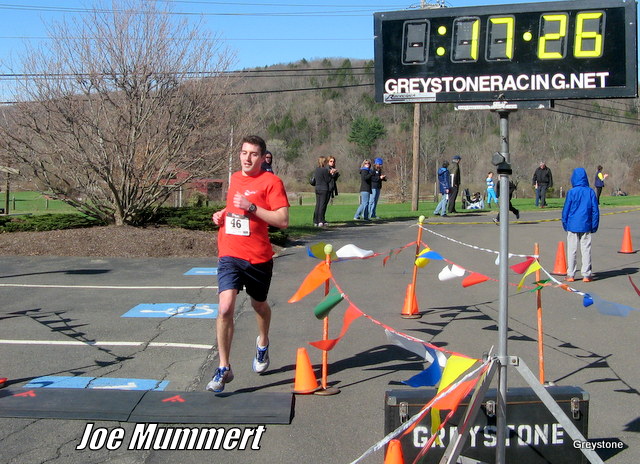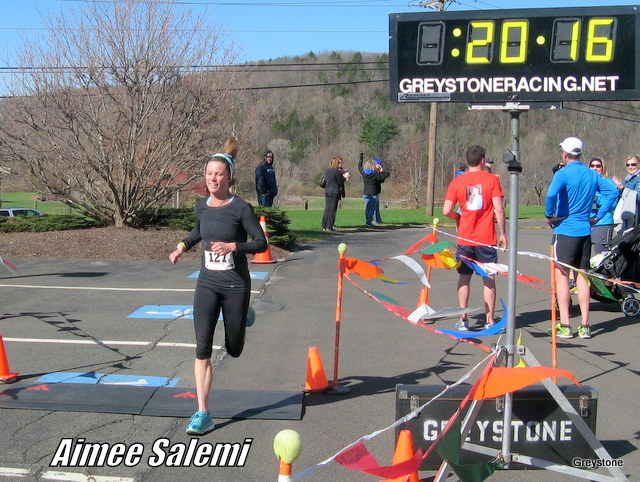 4/21/15
Learn how to run!
at a three-week Running Technique Clinic sponsored by the
Hill County Trail Runners Club
Calling runners of all levels, speeds and experiences!
Join Running Technique Specialist and physical therapist James O'Brien for a three week clinic where you will learn proper running form, injury prevention, effective warm ups/cool downs, and much more!
When: Monday, May 4: 5:30-7:00pm
Monday, May 11: 5:30-7:00pm
Monday, May 18: 5:30-7:00pm
Where: Tennis Courts at Botelle Field, Norfolk
Cost: $45 for all three classes
For more information, contact James O'Brien at
properrunningform@gmail.com
Register online at
bit.ly/runclinic2015
Maximum of 15 registrants, so register as soon as possible!

4/12/15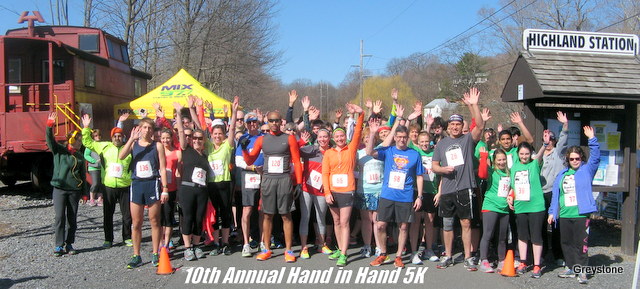 What a gorgeous day to run across the Hudson river... The 10th Annual Hand in Hand 5K has a newly certified course and the records were established. Joe Tinelli finished strong whil Rachel Sleeter finished in 3rd place overall, establishing a women's record that should stand for a few years!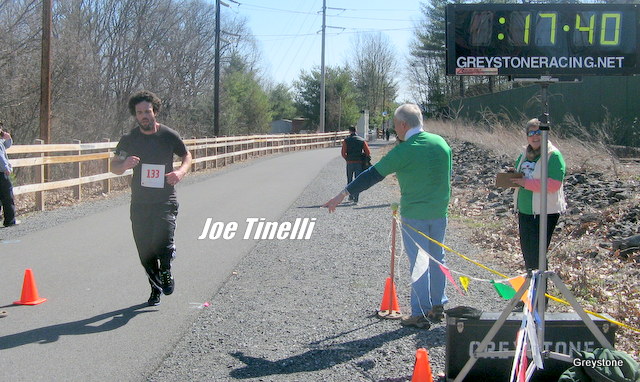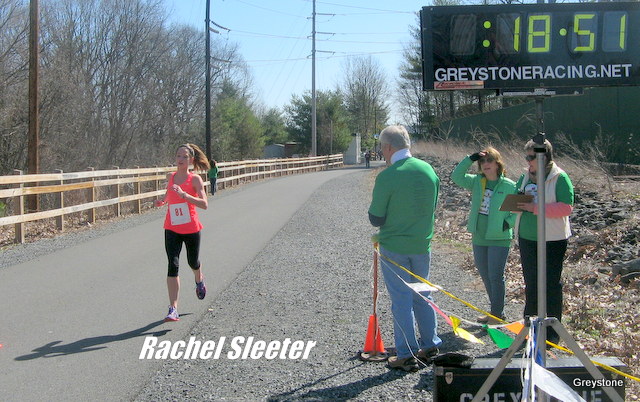 Many thanks to all the sponsors, the volunteers, the organizers, the spectators, and runners. Proceeds go to help the Maple Brook School and I know the kids really appreciate your support. Results are posted.
4/11/15

A great turnout for this first-year event. Rocco Botto had a great year in 2014. He's picking up right where he left off. The Cullerton sister battle to the very end.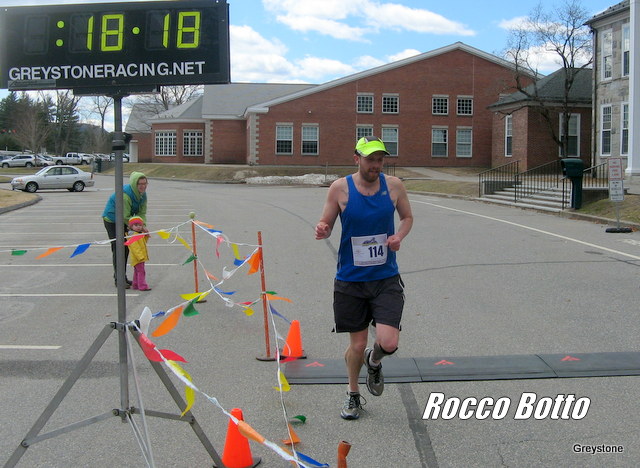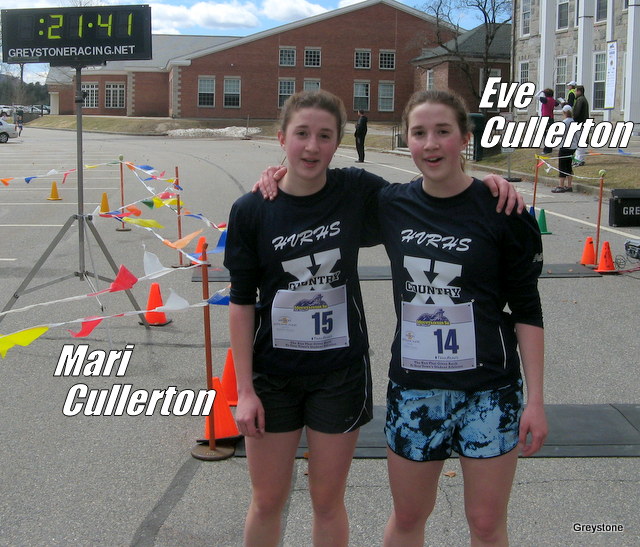 Results for the 1st Annual Mountaineer 5K are posted!