Breaking News!!
3/29/15

Ideal weather brought out some very fine performances at the Westfield Half and 5K. Amos Sang ran the second fastest time for the Half. He set the record for the new course last year with a 1:09:09. Adam Bulewich, 38 from Windsor, CT finished in third for the second year in a row. Melissa Stellato missed the course record by 29 seconds. She finished 5th overall.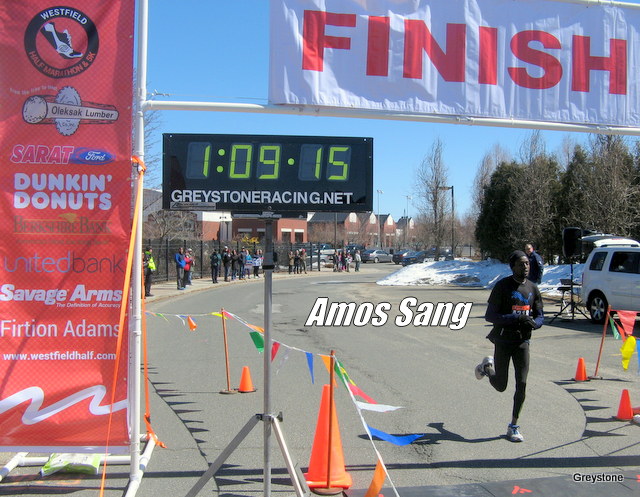 Congratulations to all the runners on a great race. Many thanks to the cheering spectators and to the vibrant group from UConn. Thank you to the sponsors, the short wave radio crew, the Westfield Police Department, and the organizers. Results are posted!
3/26/15
Several new race applications are available. Don't forget to hit refresh...
3/22/15
This Sunday, March 29, 2015, is the Westfield Half-Marathon and 5K. It's a classic New England course, USATF Certified, with scenic country roads, some hills, and plenty of fun. This race has been around for at least a dozen years and the organizers know what they're doing. It's a quality event at a reasonable price.
Check out the Race Application Page for new additions and information on upcoming races...
3/1/15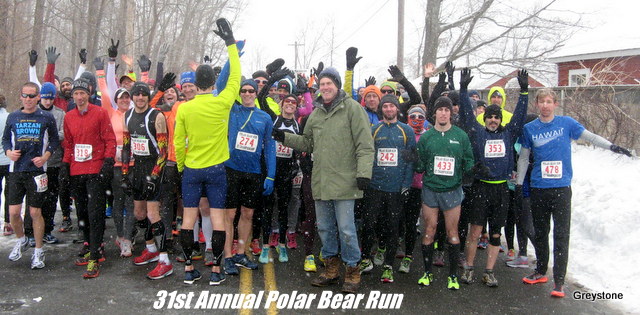 Despite the postponement from last Sunday and the snow storm during today's race, there was a great turnout and some very fast times at the 31st Annual Polar Bear 7.6-Mile Run Around Lake Waramaug.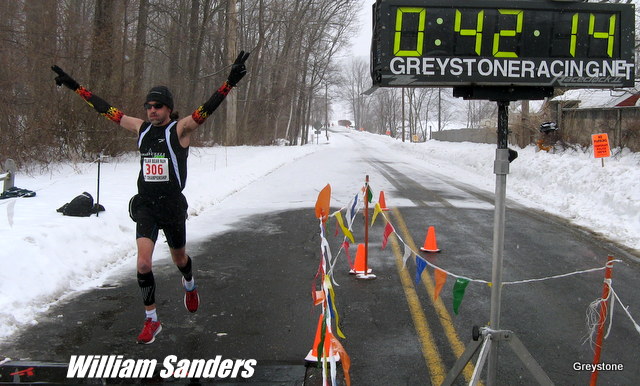 Will Sanders has won this race several years in a row and this year he was succesful in leading his USATF/CT Club, the Sound Runner Racing team to a Connecticut Cup Championship. After running a tough marathon a few weeks ago, and with the snow covered roads, Sanders opened the first two miles with a cautious 5:50/5:50, then he started to race...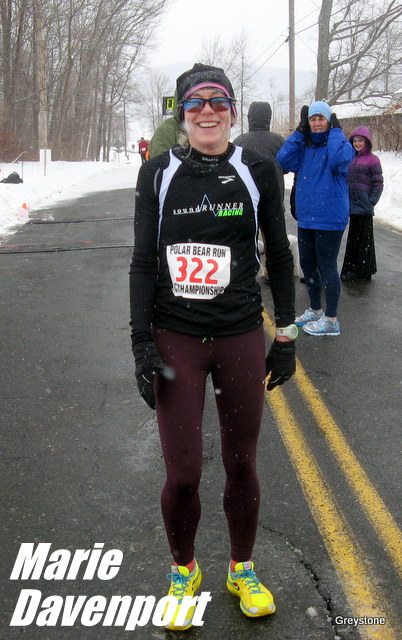 Congratulations to Marie Davenport in leading her women's team, Sound Runner Racing, to the USATF Connecticut Cup Championship! Sound Runner Racing completed a great double and the preliminary results from today's USATF/CT 5K Championship in New Haven indicate that the Sound Runner Racing Team took the Open Mens and the Open Women's title. An amazing Double-Double!! Results for the 31st Annual Polar Bear Run are posted.
Emerson DaSilva and Bonnie Pope take the Big "Chili". Results for the 3rd Annual Big Chili 5K from Danbury are posted.
2/26/15
The preregistration list for the 31st Annual Polar Bear 7.6-Mile Race Around Lake Wauramaug is available. View List.
2/25/15
Several races are running this weekend. Sunday is the day. The Polar Bear 7.6 Mile Run starts at 11:00 AM. Registration opens at 9:00 AM. I inspected the course yesterday. The roads are clear, but narrow, due to the snow banks and there are some frost heaves. Parking is limited. Please try to comute with fellow runners.
The 3rd Annual Big Chili 5K kicks off at 10:00 AM on Sunday. I inspected the course yesterday. It's fairly flat and fast as the start and finish are located at the Danbury Sports Dome and the course loops into the edged of Bethel. Plenty of parking and registration opens at 8:30 AM.
Watch out for slick spots and have fun!
2/20/15
The Polar Bear Run, scheduled for this Sunday, February 22, 2015, has been postponed due to predicted bad weather. The new race date is now Sunday, March 1, 2015. Same time, same place, new date.
2/19/15
A large variety of race applications are now available for download and/or on-line registration from the Greystone Race Application Page.
1/1/15

Happy New Year!
Record turnout for the 7th Annual Gordy's First Race 5K and 10K: results are posted.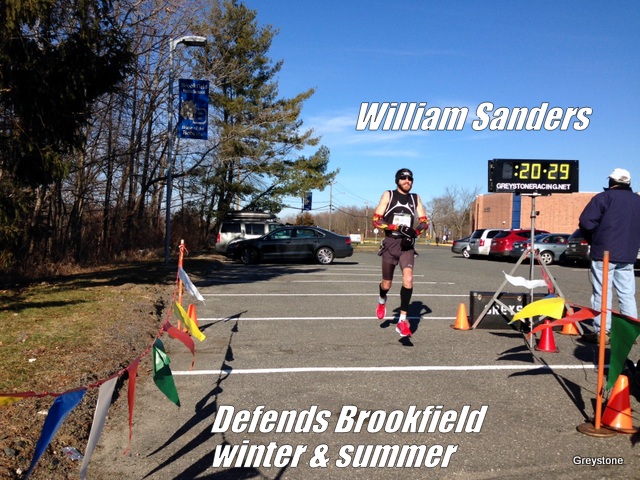 Running off of an USATF/Connecticut 2014 Cross-Country MVP season, Sanders tunes up for Boston, and perhaps a title defense of the Polar Bear in February: the 2015 USATF Connecticut Cup Championship.
Congratulations to Sara Belles for victory in the women's rae and a top 7-overall finish! Results for the 28th Annual New Year's Day Brookfield Lions Run for Sight 4-Miler are posted.
12/20/14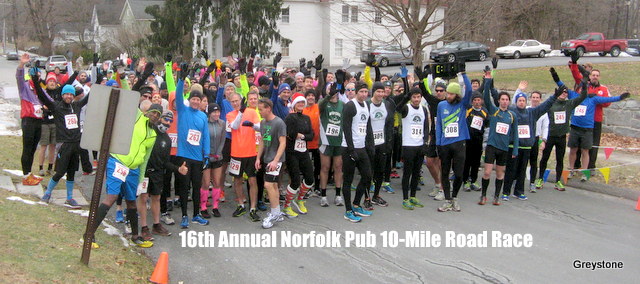 Record turnout on a rather balmy day at the "Ice Box of Connecticut".