Breaking News!!!
2/18/118
The Snow stopped, the sun came out, the 6th Annual Danbury Big Chili 5K ran!

1/1/18
HAPPY NEW YEAR!
The cold did reduce attendance to the local races. Those that ran were not chilled. The sun was bright, the sky azur blue, and the spirits were high. Races do run in much colder weather. It's Winter; enjoy.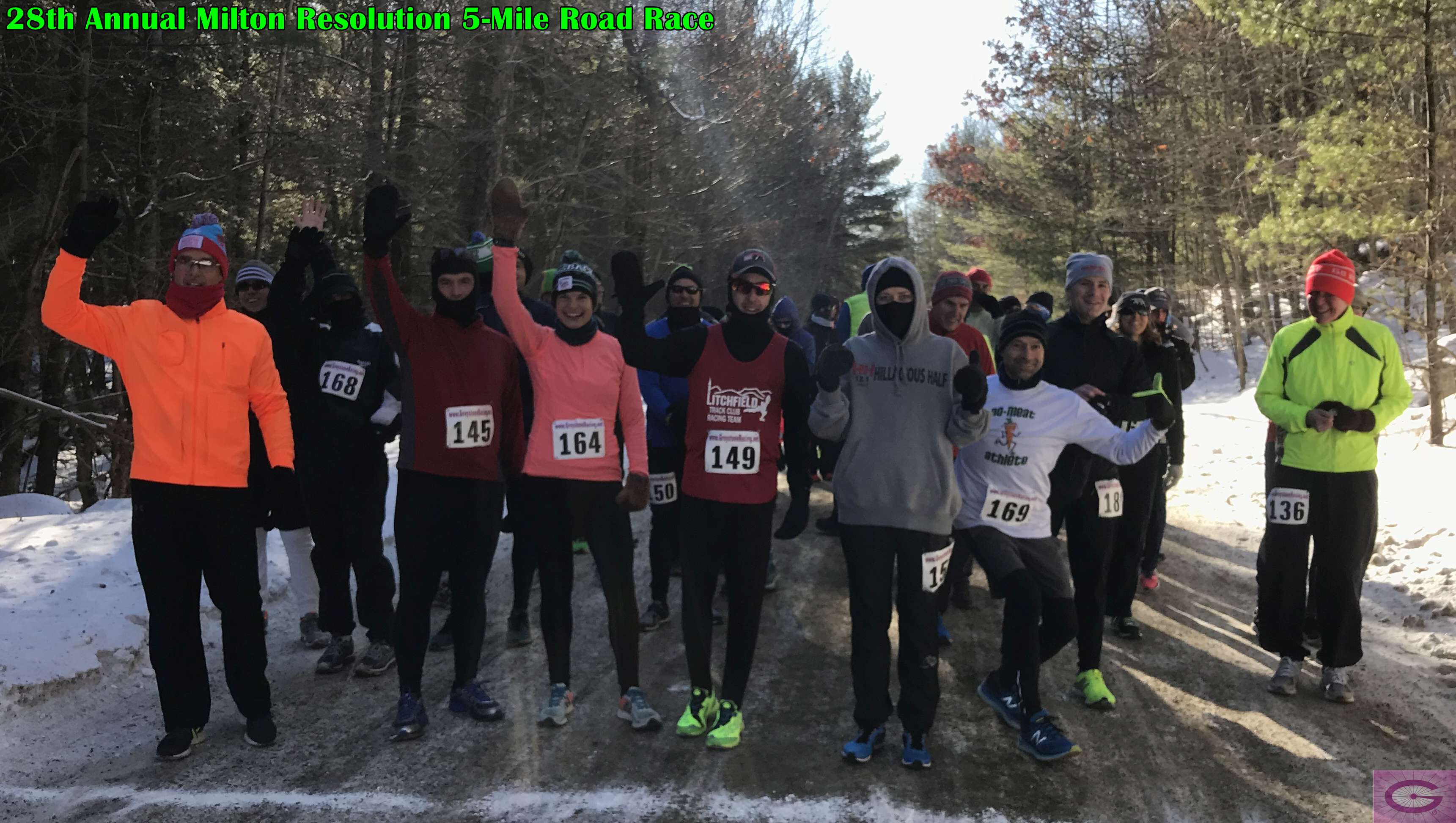 Video of the 1 degree F Milton start
12/16/17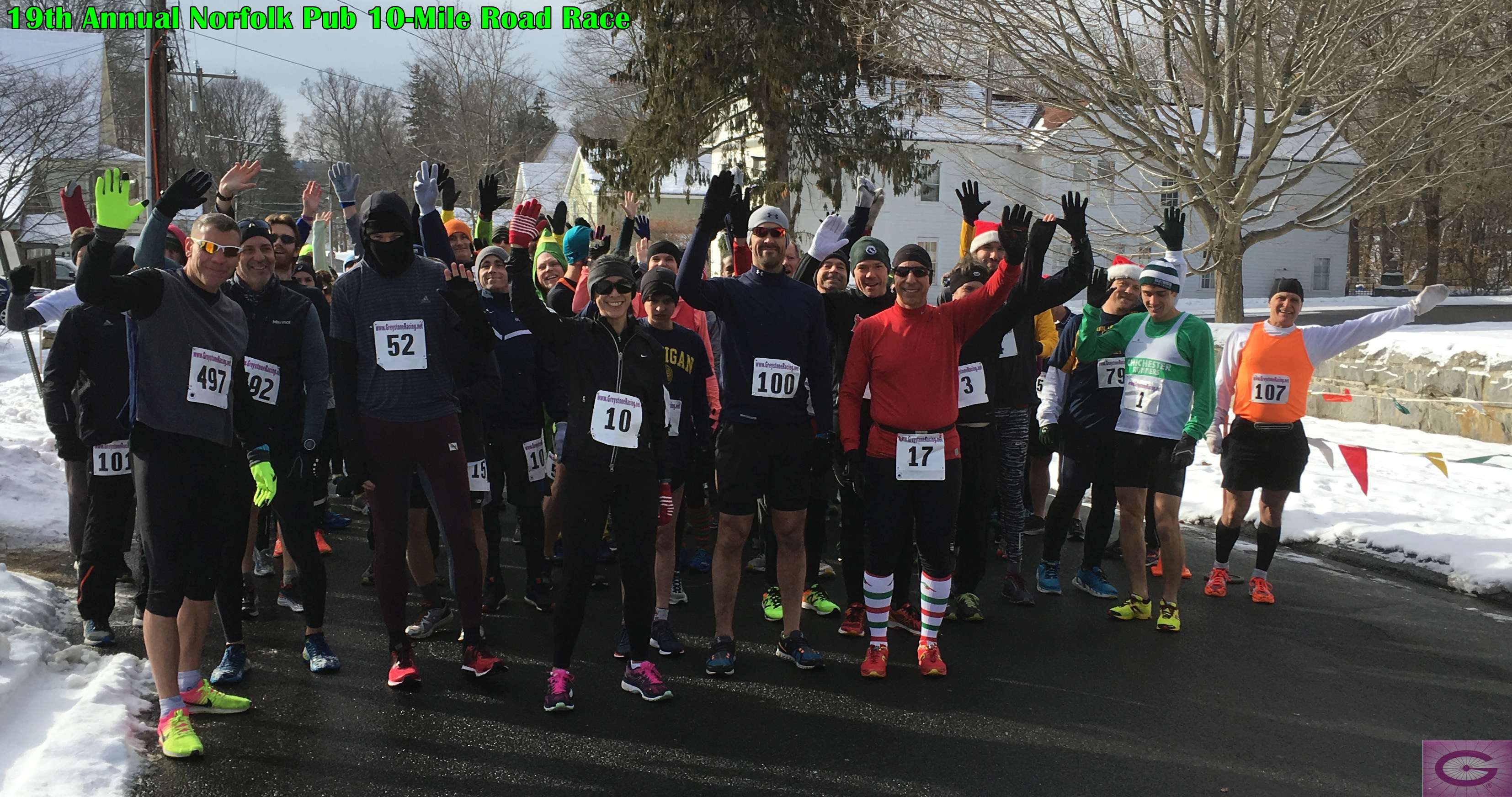 Thirteen days after qualifying for the Olympic Trials in the marthon, Chris Zablocki took home his third title to the Norfolk Pub 10-Mile Road Race. Zablocki has the two fastest times on the most challenging 10--mile road race in Nw England. Conditions were slow from a thin coating of snow on the 2-Mile climb up Lovers Lane. Sherri Odell came off of her victory at the Litchfield Jingle Bell thirteen days ago and demonstrated that she can win at the 10-Mile distance. Thank you to all the runners, the volunteers, spectators, and the the Town of Norfolk. Results for the 19th Annual Norfolk Pub 10-mile Road Race are posted!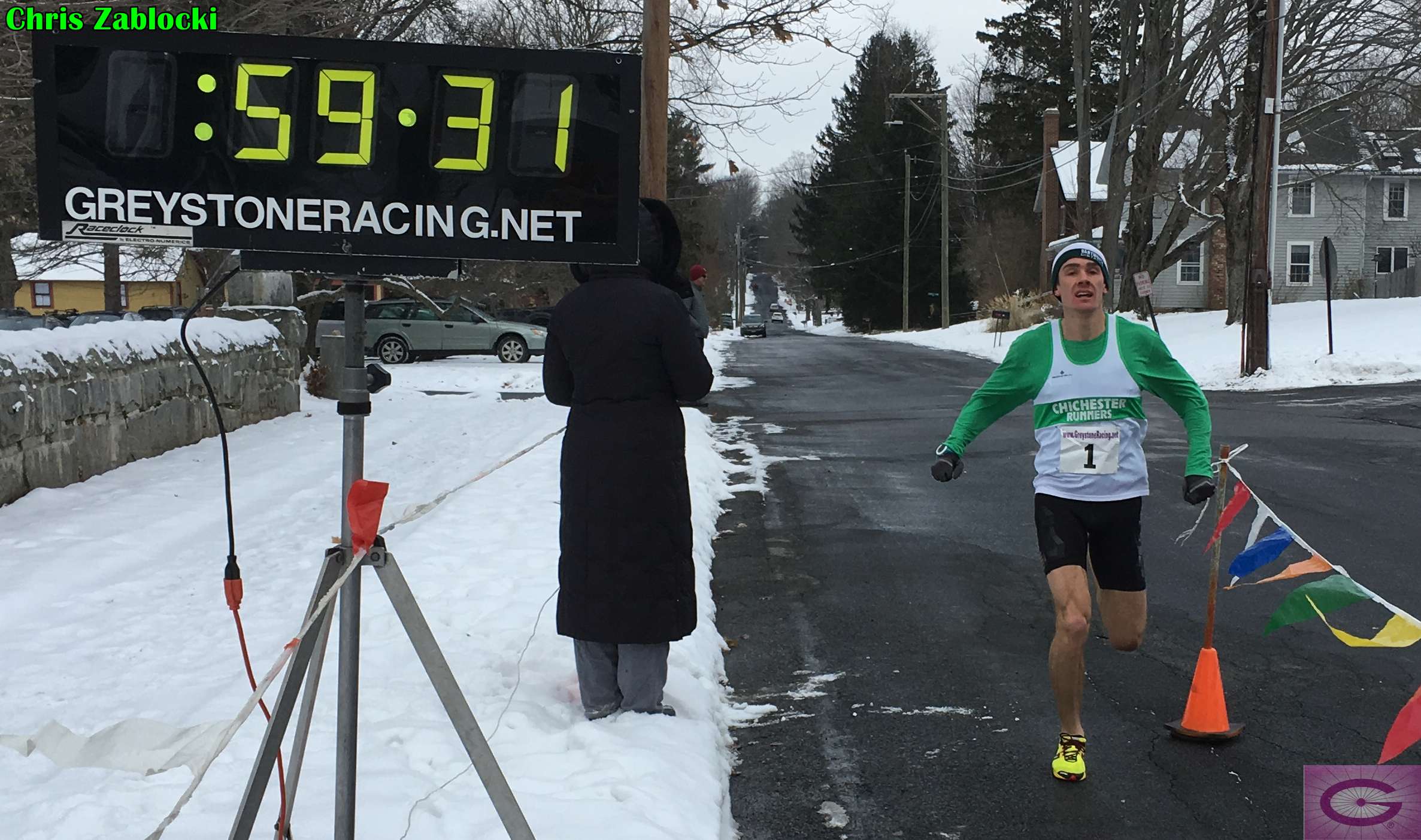 12/13/17
The 19th Annual Norfolk Pub 10-mile Road Race on Saturday 12/16 at 11:00 AM. This race draws about 300 runners in a runner friendly town. The course is certified. It's a challenging race with plenty of spectacular scenic vistas. Prize money for overalls. PEZ awards in 5-year age groups. The party at the Woodcreek Bar and Grill is a lot of fun! Take advantage of the on-line registration price or download the race application.
The Norfolk Pub 10-Mile Road Race will offer an early start for those runners who plan on running 100 minutes or more.
The Competitive start is at 11:00 AM.
The early start is at 10:30 AM.
Those runners who choose to run in the early start shall have a minimum time of 100 minutes and must declare their start time upon pick-up of their bib number.
The estimated time for awards will be 1:15 PM
The Finish line will close by 1:15 PM.
New Year's Day has plenty of races.
The Milton Resolution 5-Mile Run will be timed with the BibTag chip system this year. This is a challenging 5-Miler run on some very pretty back roads in one of the country burroughs of Litchfield.
The Brookfield 4-Miler is a great race with nearly 400 runners.
12/11/17
On December 3rd, Zablocki finished 8th at the USATF National Championship for the marathon. He earned the "A" standard for the Olympic Trials! That's what Norfolk can do for you! Will Jeff Niedeck's Master record will hold for another year. There is Open, Master and Grand Master prize money. Will a woman ever break 60 minutes at Norfolk? Claudia Camargo (Nero) dominated from 2004 to 2007 and Shannon McHale's masters record seems pretty safe...
Top Fifteen Times for Men in Norfolk Pub 10-Miler (CT00003DR). Greystone offers $100.00 for a new course record and $50.00 for a new Master's record!
1. Chris Zablocki 23, 53:09, 5:19's, 1st in 2011
2. Chris Zablocki 24, 53:35, 5:22's, 1st in 2012
3. William Sanders 24, 53:54, 5:24's, 2nd in 2011
4. Chad Johnson 26, 54:40, 5:28's, 1st in 2001
5. Peter Oviatt 32, 55:38, 5:34's, 2nd in 2001
6. Marc Robaczynski 37, 55:58, 5:36's, 3rd in 2011
7. Kevin Curley 26, 56:21, 5:39's, 1st in 2006
8. Eric Blake 24, 56:37, 5:40's, 1st in 2003
9. Eric Blake 26, 56:54, 5:42's, 1st in 2005
10. Brian Nelson 31, 57:16, 5:44's, 4th in 2011
11. Jon French 24, 57:24, 5:45's, 1st in 2007
12. Zack Schwartz 21, 57:42, 5:47's, 1st in 2009
13. Brian Nelson 30, 57:44, 5:47's, 1st in 2010
14. Joseph LeMay 38, 57:47, 5:47's, 1st in 2004
15. Dave Dunham 36, 57:57, 5:48's, 1st in 2000
16. Jeff Niedeck 45, 58:24, 5:51's, 2nd in 2009 (Master's Record)
Top Fifteen Times for Women in Norfolk Pub 10-Miler (CT00003DR). Greystone offers $100.00 for a new course record and $50.00 for a new Master's record!
There was no shift in the men's top 15 in 2016; however, there were a few changes for the women. Women finished 2nd and 3rd overall!
1. Claudia Camargo 35, 1:00:33, 6:04's, 3rd in 2006
2. Claudia Camargo 36, 1:01:58, 6:12's, 4th in 2007
3. Claudia Camargo 33, 1:03:51, 6:24's, 5th in 2004
4. Claudia Camargo 34, 1:04:46, 6:29's, 4th in 2005
5. Melissa Stellato 33 1:04:55, 6:30's, 8th in 2015
6. Shannon Mchale 40, 1:05:07, 6:31's, 18th in 2011 (Master's Record)
7. Melissa Stellato 32, 1:05:32, 6:34's, 7th in 2014
8. Bess Ritter 24, 1:06:32, 6:40's in 2011
9. Apryl Sabadosa 32, 1:06:52, 6:42's 2nd overall in 2016(1/17)
10. Melissa Stellato 31, 1:06:59, 6:42's, 10th in 2013
11. Donna Kay-Ness 50, 1:07:31, 6:46's in 2013
12. Annemarie Tuxbury 21, 1:07:49, 6:47's, 13th in 2015
13. Brittany Heninger 23, 1:08:23, 6:51's in 2011
14. Samantha Glass 20, 1:08:24, 3rd overall in 2016 (1/17)
15. Liz Fagan 28, 1:09:06, 6:55's in 2003
16. Kate Lapinski 41, 1:09:17, 6:56's in 2006
Saturday, December 16, is the big day! On-Line Registration is still open and you can register at the race!
Parking , registration, the start, and finish are located at the Town Hall on Maple Ave. Race-Day registration closes at 10:45 AM. Gun time is 11:00 AM. Current USATF mebership is required for cash awards. Awards (must be present to win) will take place at The Wood creek Bar and Grill at approximately 1:15 PM. See you there!
12/2/17

Odell walks away with a shopping cart of awards and a new pr! 13-Year Old, Andrew Taborsak; for the win!
11/23/17
HAPPY THANKSGIVING!
From the base of Mount Greylock, the WMAC Turkey Trot Thanksgiving Day 5K Road Race had some very fast times!

11/19/17
The rain didn't dampen anyone's spirits. The 43rd Annual Fischang-Cicchetti Memorial 5K and 5-Miler drew a fine crowd, despite the wind and rain.

Records fall! After just setting a new record yesterday at the HTC 8K XC, Zablocki shatters the Fischang 5-Mile in one of the fastest 5-mile times recorded in Connecticut. Meanwhile, Crouch crushes the women with a 28:35!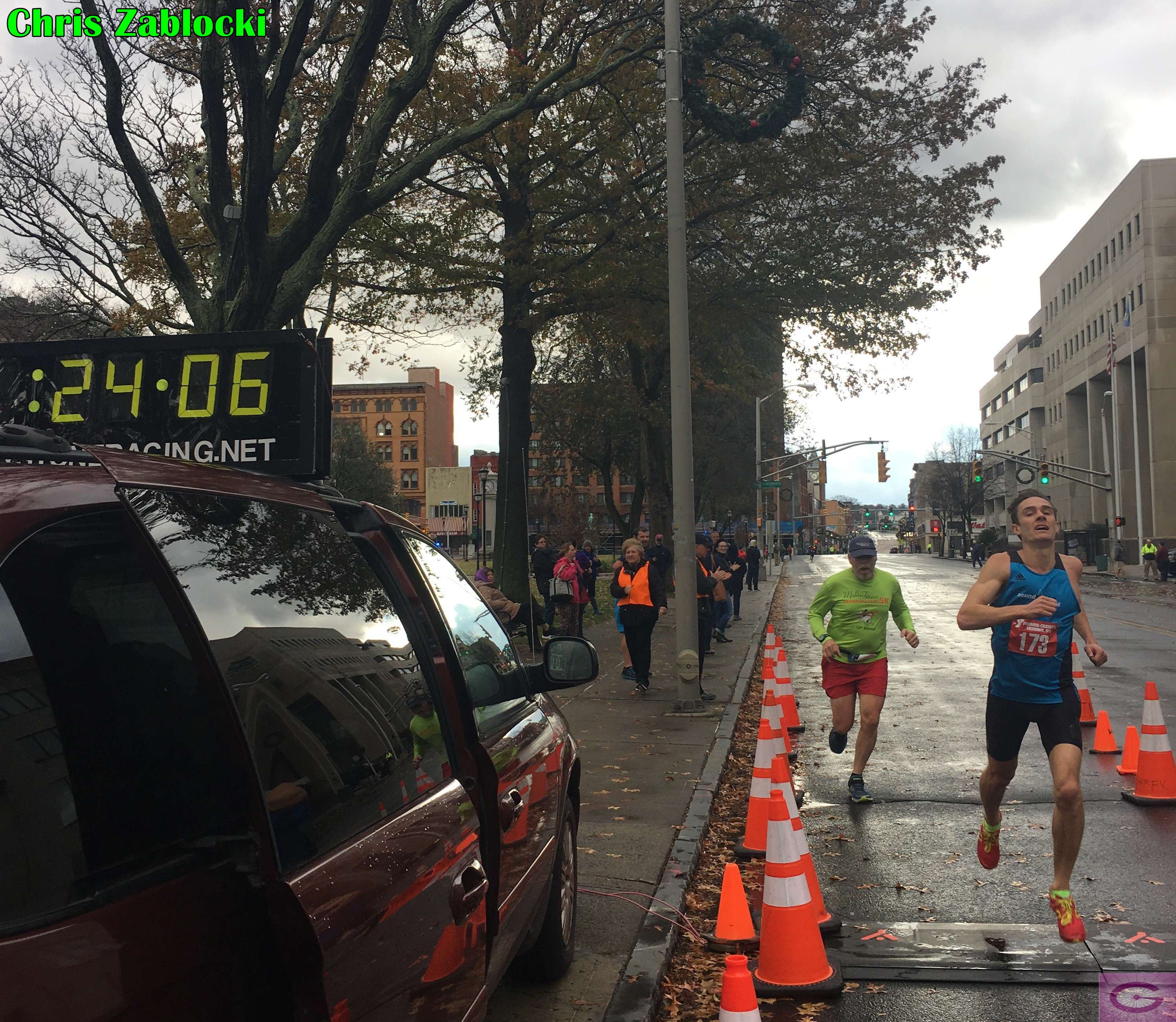 11/12/17
Mario Longo continues to dominate the roads. Linda Spooner ran a fine race, as did Maureen McMahon , and Todd Forselius. John Minervino had a great double. Check out the Thomaston and Litchfield results.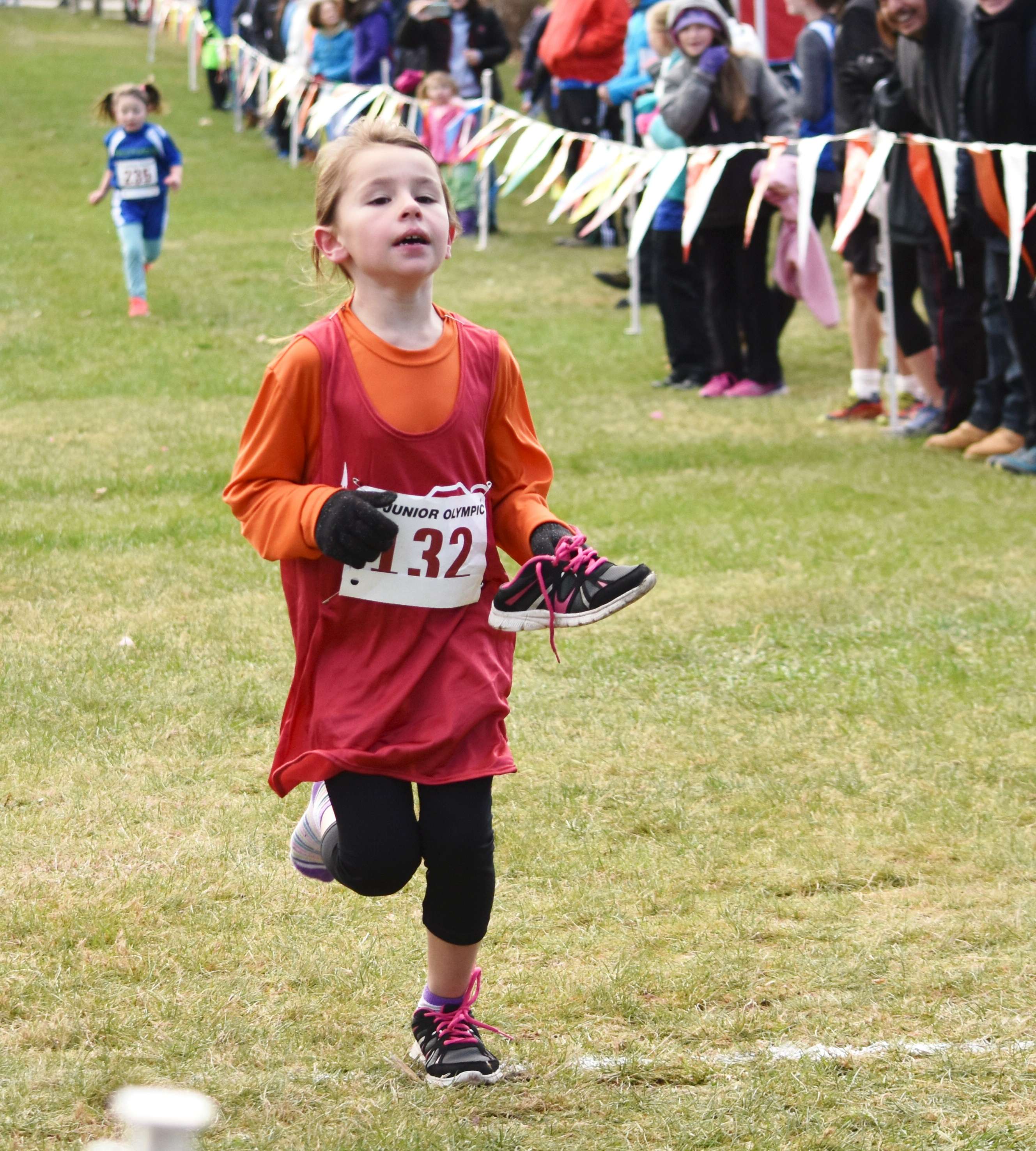 photo courtesy of David Driscol
11/11/17
Ultra-Marathon Champion, Jan Prenoveau, plays host and race director for the Run for a Cause 2-Mile Run & Walk to support JDRF. There was a fine turnout on a frosty morning. Harrison Foley, from Waterbury, lead the field. Laura Thomas, from Middlebury, took home the women's victory. There was plenty of awards and food in the heated barn and everyone had a great time. A good turnout for a great cause, and the entry fee was free! Thank you to the Prenoveau family, to the runners, spectators, and volunteers. Well done!
11/4/17
A whole bunch of races today!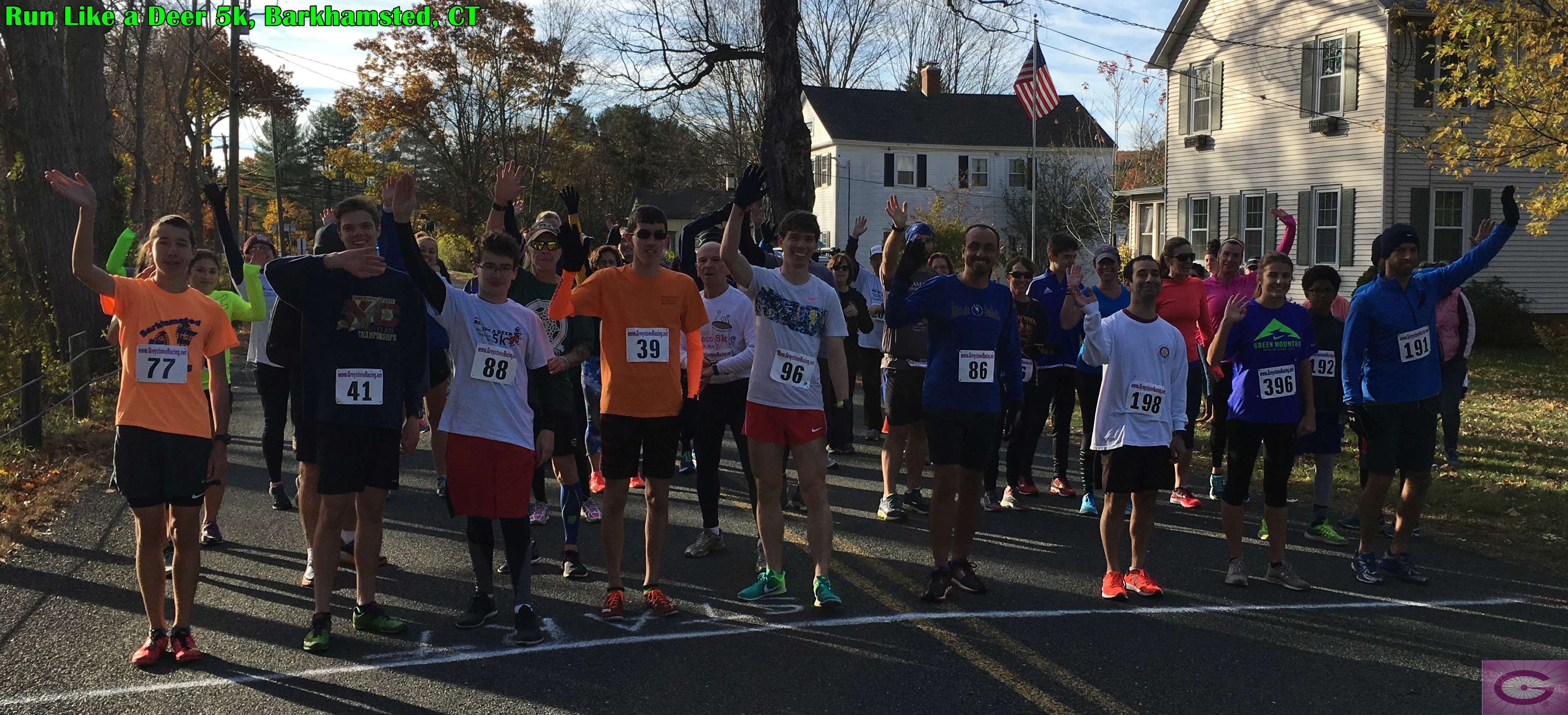 Keep an eye on # 96.

Mario Longo is on a tear!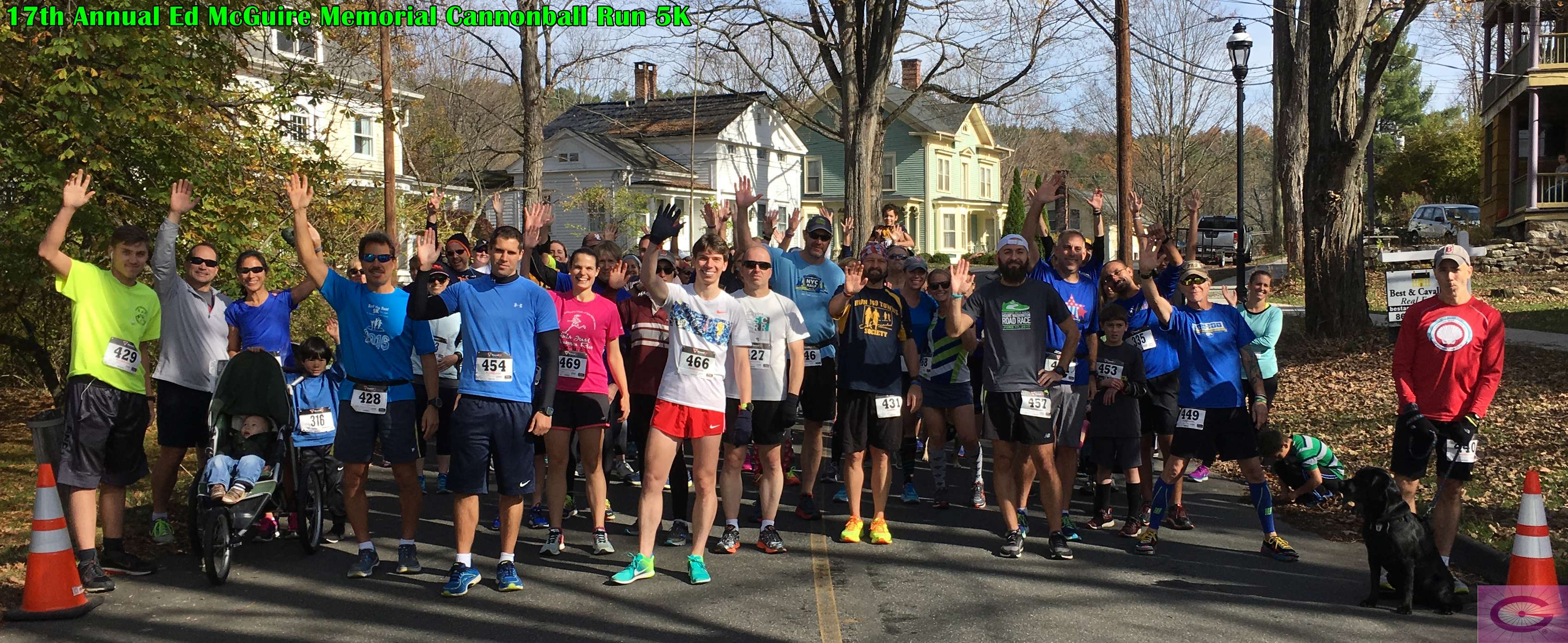 The girl in purple finished second overall. The guy in white is the hero for the day.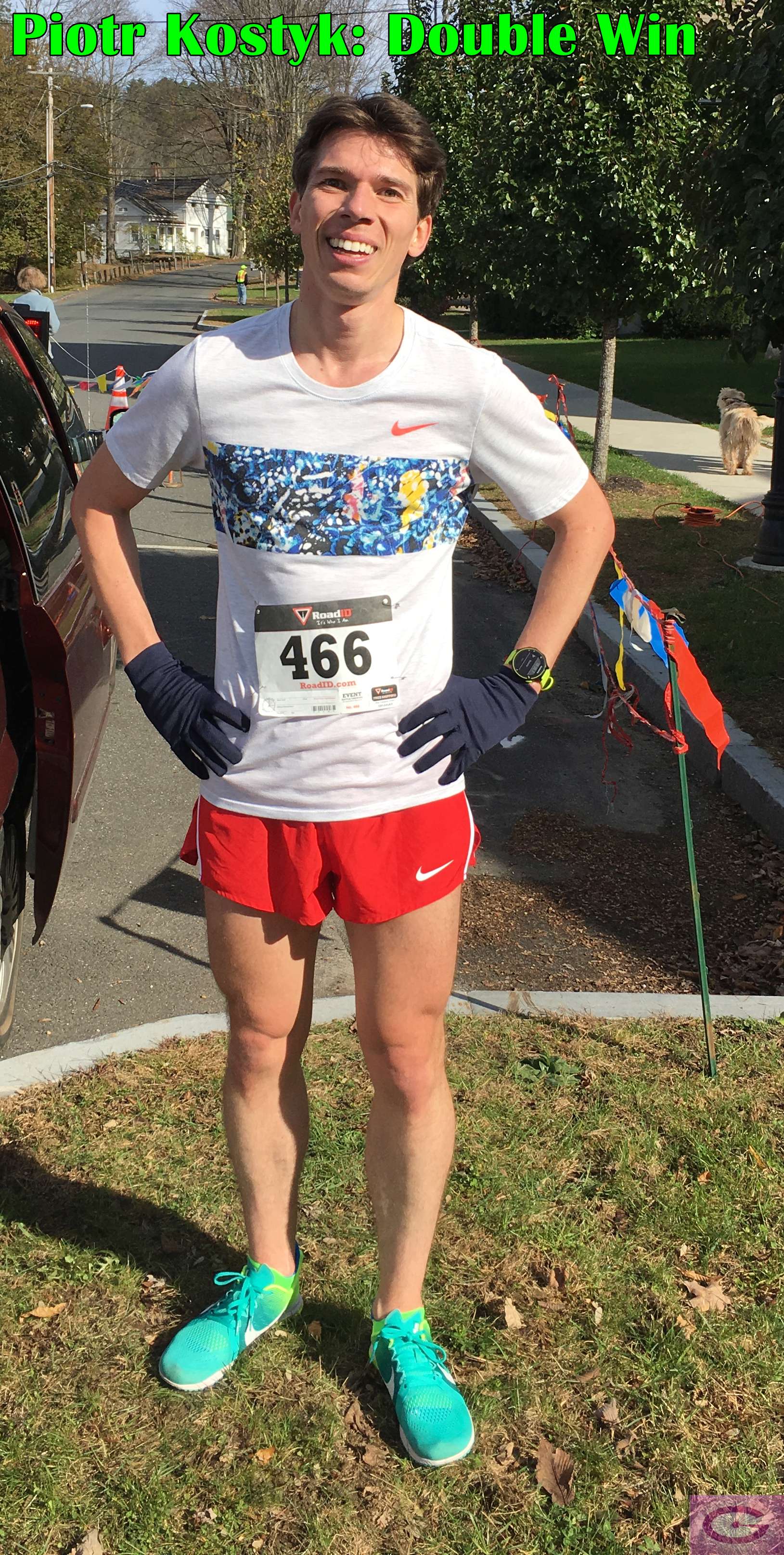 10/22/17
Another summer-like day in October. After winning the Run for the Cove 5K last weekend, Mario Longo successfully defended his 2016 title with a solid victory in Waterbury, CT. Congratulations to all the runners and the multitude of walkers to benefit The Walk in their Footsteps-Race for awareness, presented by the St. Vincent DePaul Mission of Waterbury.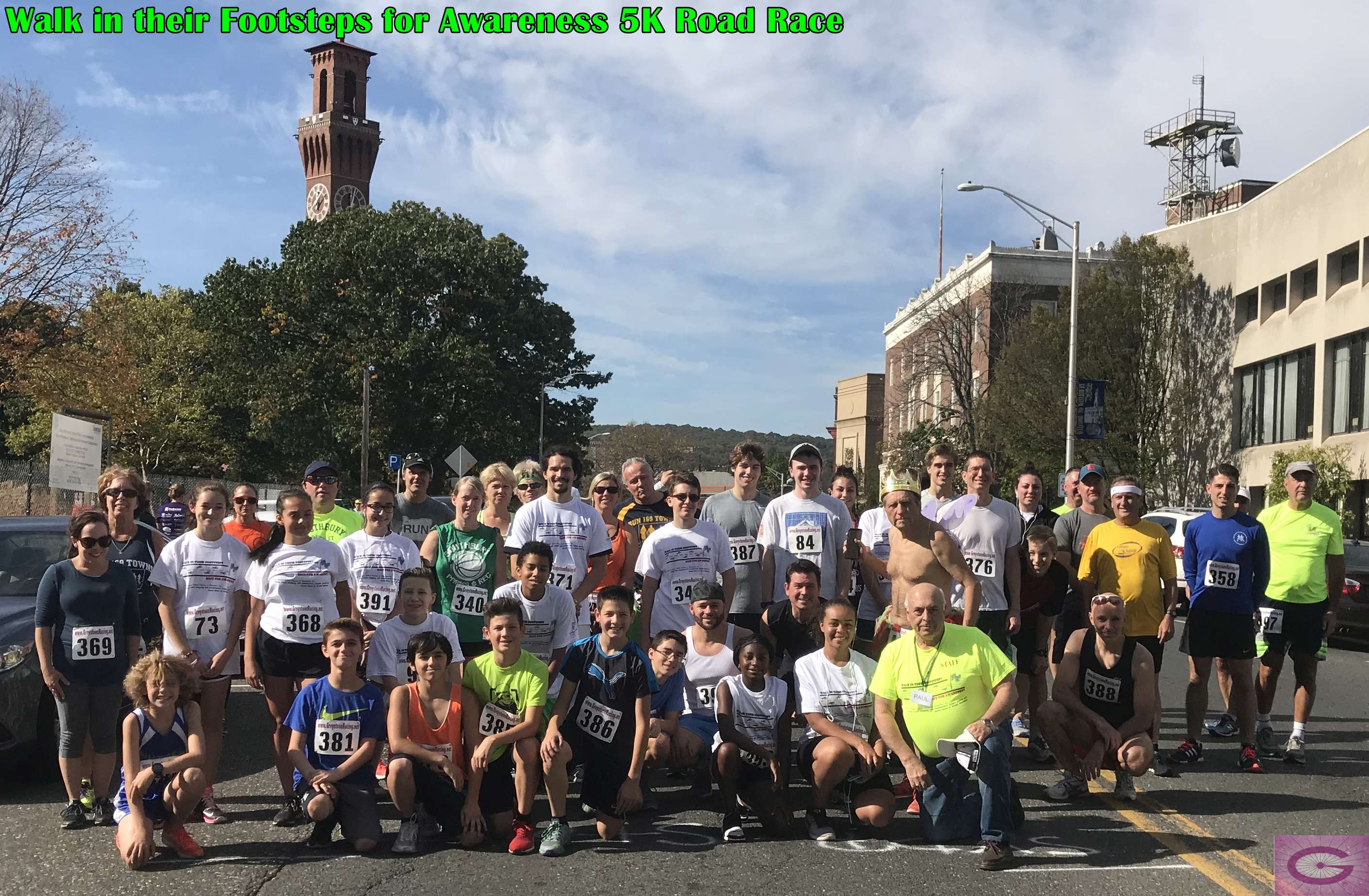 10/15/17
The rain held off and the race was on. The 20th Annual Run for the Cove 5K in Guilford had a great turnout with some pretty fast times.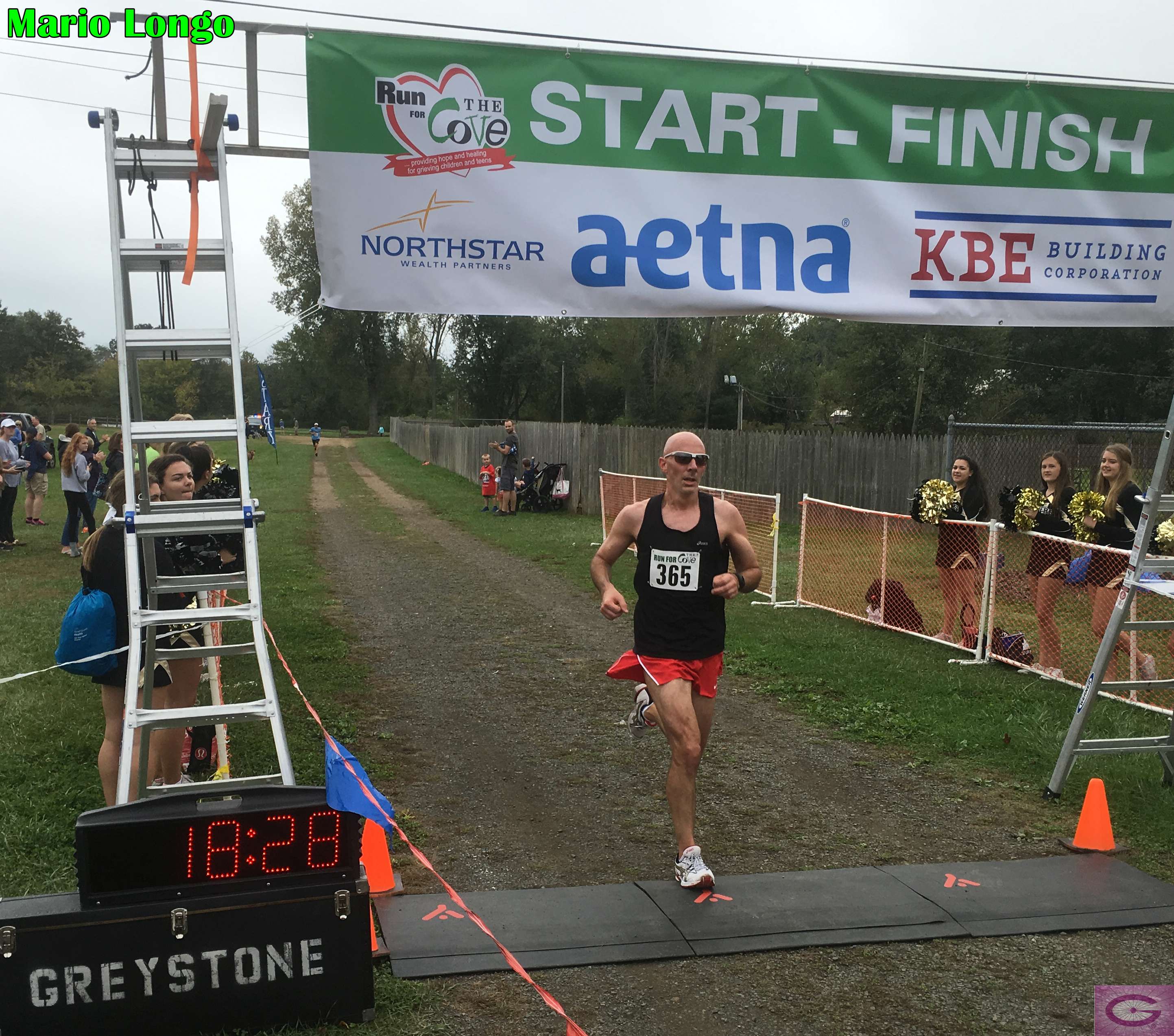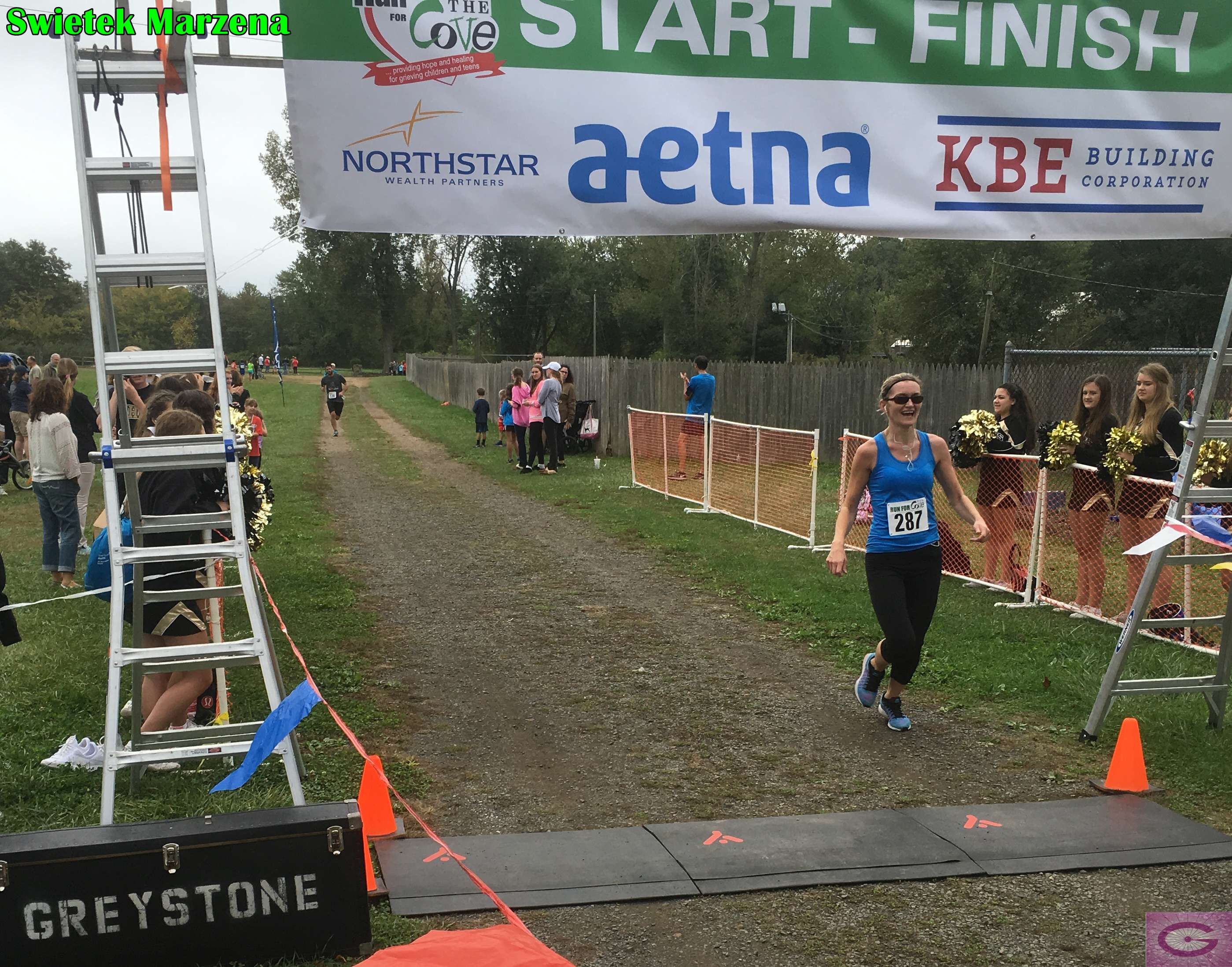 The 19th Annual Norfolk Pub 10-Miler is scheduled for Saturday, December 16th. Stay tuned for updates.
10/14/17
The 4th Annual Connecticut Doggie Cup Championship had a spectacular array of hounds, working dogs, sporting dogs, big, small, and all of them were very happy! The 4th Annual Run and Wag 5K from Cornwall, CT is a great race. The race came down to two great legends of running in the Northeast and National scene. There were outstanding performances from the women and men across a variety of age-groups.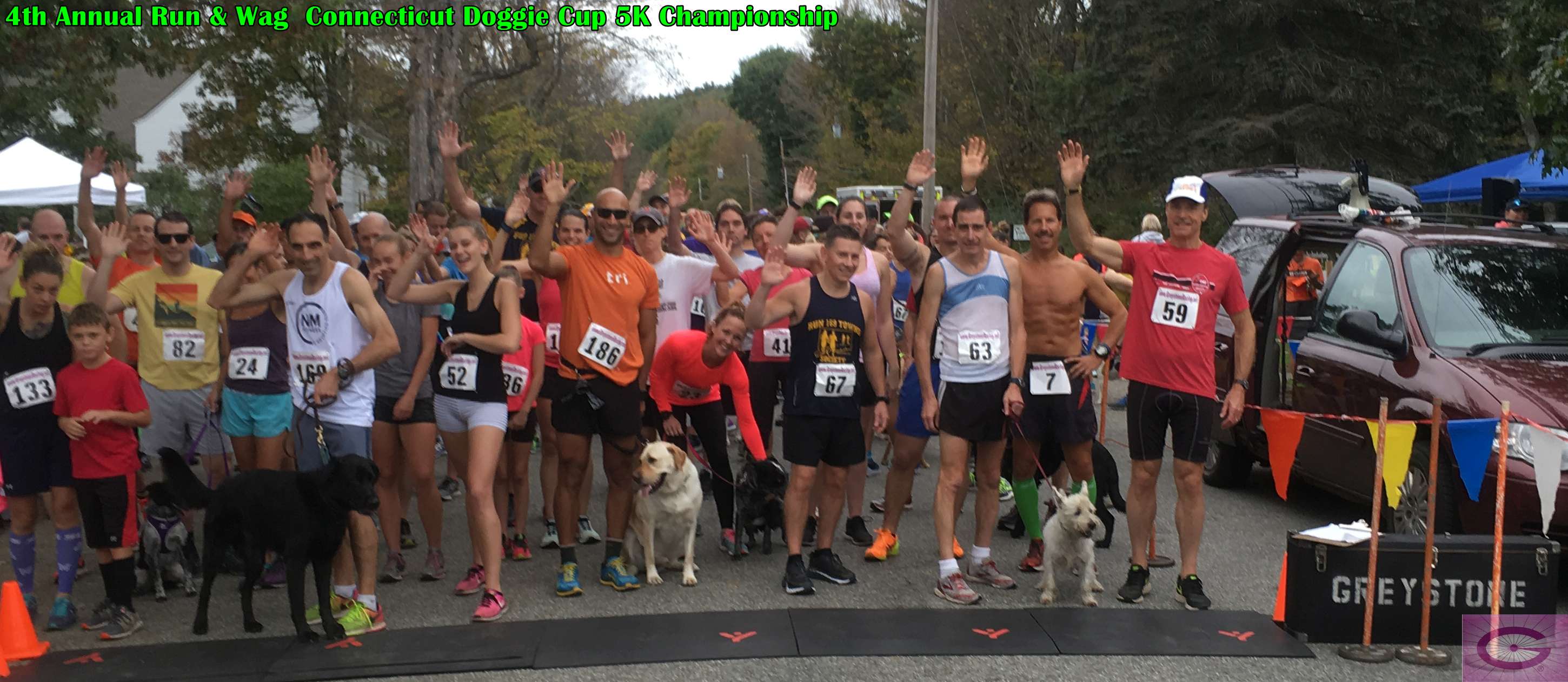 The local boy took the day over the two-time champion! The former champions' record stands. M 'n M came close.